Not all holidays are about lounging in a hammock and soaking in the sun. Some are for action, adventure, tracking a tiger, sighting a bird and to enjoy the crisp morning air as you head out for a jeep safari. If you love a jungle adventure then you will be thrilled to find this info on top 7 Jungle Lodges and Resorts in South India that you can book for your out of city escapade 
Bandipur Safari Lodge, Karnataka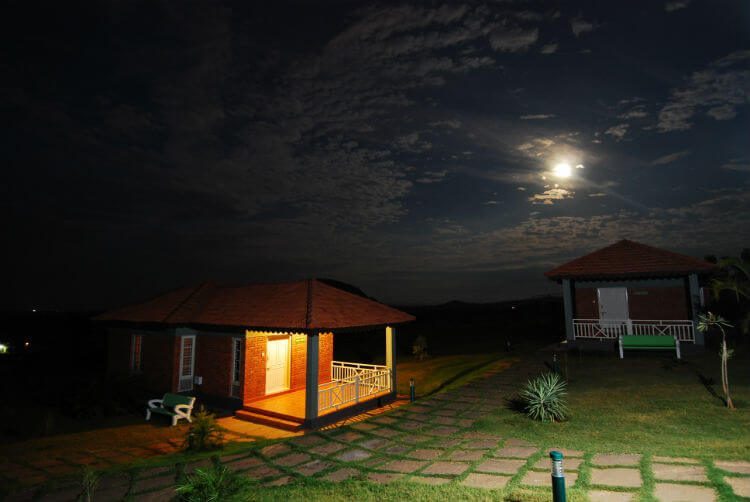 Snuggled cozily at the foothills of the enchanting Blue Mountains, Bandipur Safari Lodge opens up to a world of exotic and serene rustic beauty. Set in the lap of the mystical woods, Bandipur Safari Lodge comprises of 10 special and 12 regular cottages which together accommodate 60 guests in a naturally calming ambiance overlooking jungle-covered hillsides to provide the perfect holiday destinations. The cottages are artfully crafted with natural building materials that complement the terrain and are presented with a contemporary twist, to transform your stay into cherished memories. World-class cuisine is served according to the palate of Indian and foreign taste buds. Are you game for an exciting wilderness watch? Jeep safari offers splendid opportunities to spot various animals and birds in their natural habitat.  You can bird watch in this magical jungle as you are welcomed with a fresh path of nature that leads you to blissful moments. Enjoy the nights with sumptuous dinner, campfire and watching a wildlife movie aired in the conference room. Escaping from your daily life on a relaxing gateway doesn't have to mean taking a break from the green life.
Comfy Jungle Resort at Bokkapuram, Masinagudi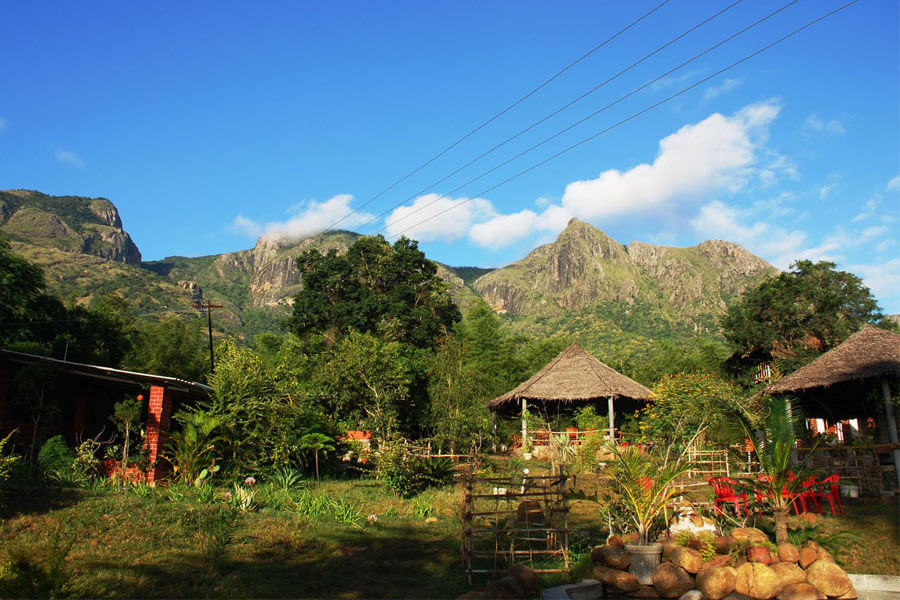 Do you want to get away from the mundane city life and unwind yourself in the lap of nature?  Then this comfy Jungle Resort is the one you should be heading to!  A tranquil environment in the backdrop of the Nilgiri Hills, it is an ideal getaway place to satiate the hunger of every adventure loving souls. A green retreat for the eyes and soul of the city dwellers, this quaint mountain lodge offers different activities like jeep safaris, a trek to the nearby waterfalls, bird watching and much more. The tents at the campsite are weatherproof and give you a rustic ambiance and comfort all at once. This Comfy Jungle Resort at Bokkapuram has its own indoor-outdoor restaurant that lets you taste mouth-watering cuisines enjoying the scenic wilderness, offering both vegetarian and non-vegetarian dishes. This resort is a perfect pick for those who are looking for a blend of wilderness in the luxury category of accommodations.
Kyathadevara Gudi Wilderness Camp at BR Hills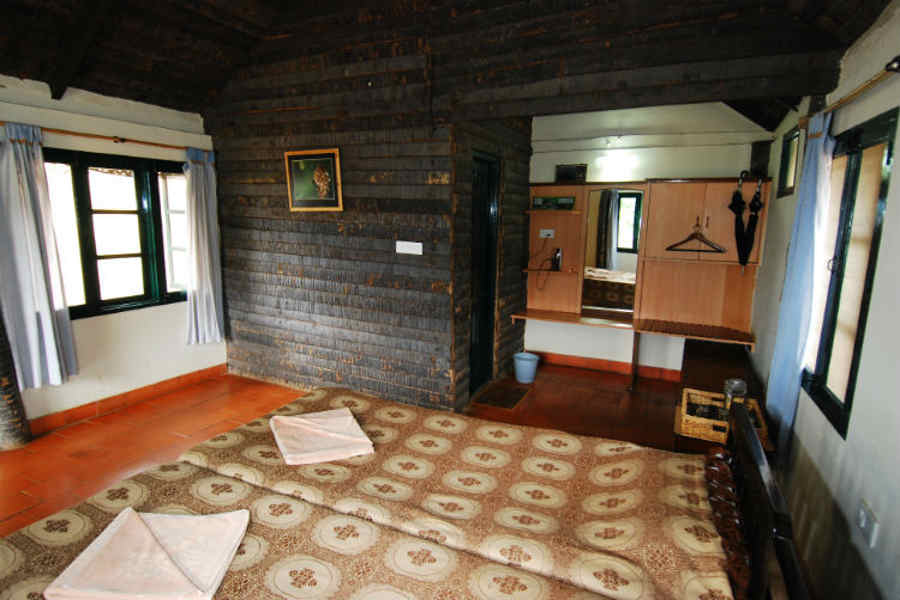 This adventure camp situated at BR Hills (Biligirirangana Hills) in Karnataka is a true jungle adventure complete with tree houses (where you can play the Tarzan) and tree-top lodges (for some Shikari Shambu fun). Situated in a hill range in the South Eastern Karnataka where the Western Ghats meets the Eastern Ghats, BR Hills is your quintessential jungle adventure for those who wish to enjoy nature. Teeming with wildlife, BR Hills is also a protected tiger reserve and home to guar and leopards. Safari rides along naturalists twice a day is an exhilarating experience for all as we get to spot different and rare species of animals and birds. Come evening, things are relaxed, it's time for some bonfire, a hot cup of tea and some savory snacks and dinner while we trade stories of what we spotted deep in the jungle. Are you game? Then find out more about K Gudi Wilderness Camp stay.
Eco-Friendly Lodge In Bandipur

, Bandipur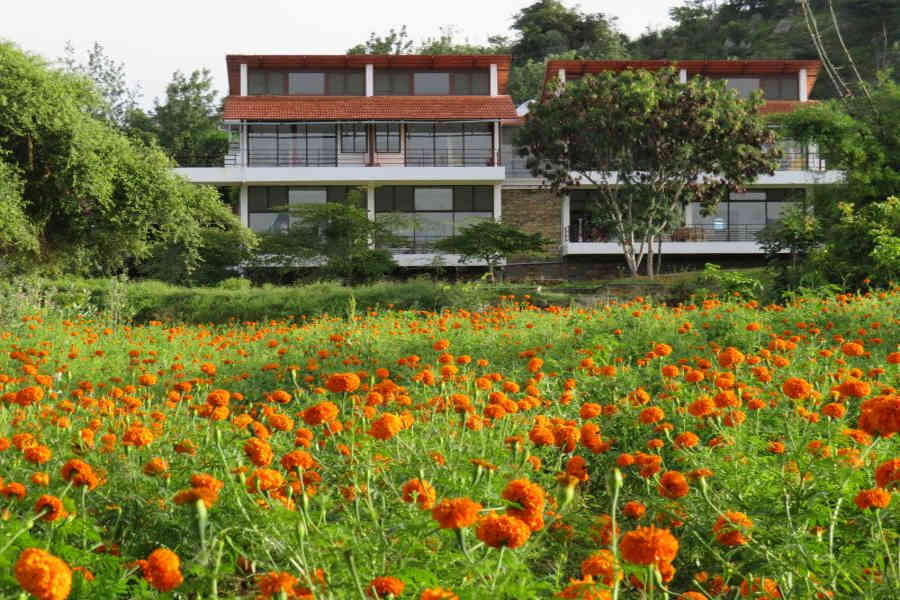 Located on the fringes of the Bandipur Tiger Reserve, the property combines the best of both worlds—the feeling of being in the wild and the ambiance of a resort. This lodge epitomizes the idea of eco-friendly and has done away with ACs, telephones, and televisions. It was the first lodge in the district and in the Bandipur national park to utilize alternative energy by a wind-solar hybrid solution.
Home to a family of Chippiparai hounds, the architecture of lodge is a blend of contemporary style with that of a rugged forest dwelling. Big clear glass windows and the tiled roofs of the buildings lend a unique touch to the lodge. The white and red buildings create a pleasant contrast to the green woody backdrop while the rainwater pond is another highlight. Interiors feature liberal use of wood, while the walls have been decked with numerous paintings by the owner. Don't think twice before booking your stay here
Blackbuck Resort, Bidar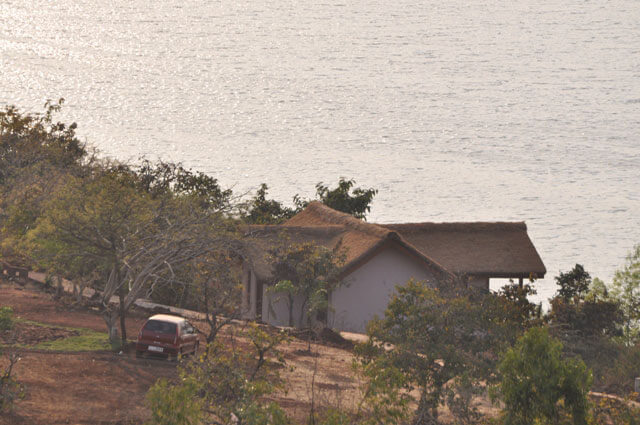 Do you want to re-energize yourself with something that will feed the soul and fill the heart with contentment? Tranquillity is the calling of Blackbuck Resort which finds a sweet spot between the Honnikeri Reserve Forest and the Vilaspur Lake in Karnataka. Free roaming blackbucks abound in the surrounding grasslands, giving the resort its name. Just when you begin to adjust to the unforgiving beauty of the surroundings, the silence as if on cue is broken by the chorus of birds. Get lost in the warps of time as you explore every hidden gem that comes with the stay at the Blackbuck Resort. The months from October to February have great weather but summer can be quite dry. Unwind in the resort by being part of this ecological haven.
Resort At Bokkapuram, Masinagudi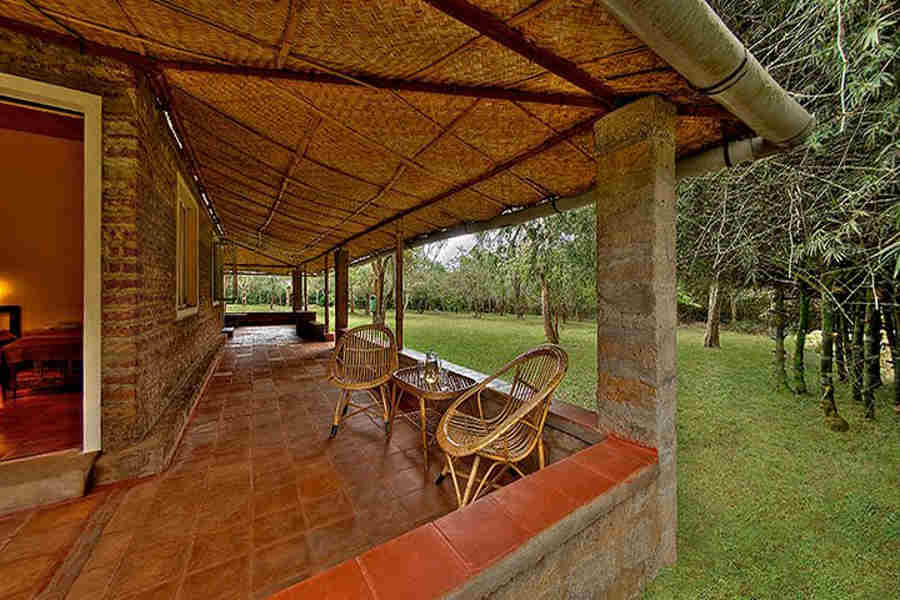 Are you an adventure buff who love to brush shoulders with the wild aspect of nature? Nestled in the foothills of the Nilgiris Mountains on the fringes of Mudumalai Wildlife Sanctuary, this Jungle Resort is a family run establishment. A combination of wilderness, comfort, and serenity, it provides country-style cottages with sprawling verandahs for accommodation that offer spectacular views of receding mountains and tropical jungles. Bird watching and nature photography is a must on the to-do list. More importance is given to women tourists and corporate tours are not encouraged. The rugged mountains and spellbinding sunsets are meant to be enjoyed as seen from the Jungle Retreat.
Hampi Heritage and Wilderness Resort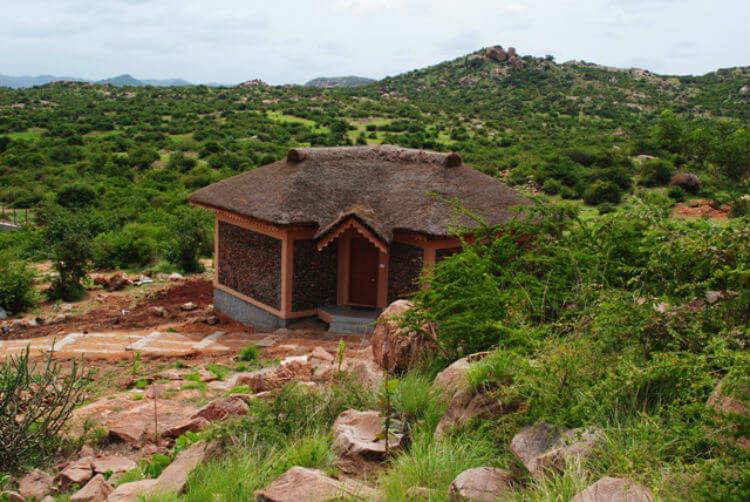 The wild beauty of the Hampi Heritage and Wilderness Resort enthralls the wildlife enthusiasts magnetically. This quaint wildlife resort located at the edge of the Daroji Sloth Bear Sanctuary is a natural habitat for the sloth bears, offering a different element of rustic adventure. If you're lucky, you just might spot wild boars, black-naped hares, pangolins, porcupines, jackals and leopards, peafowl, spurfowl, yellow-throated bulbuls, sand grouse, quails, and stone-curlews. Are you bored of the wilderness, then temple trails, nature walks, and bird watching are some of the other activities. At the end of the day, treat yourself to a gastronomical treat with a scrumptious dinner. This Wilderness Resort is open throughout the year. July to March is the best time, as the weather is pleasant and a good time to spot wildlife.
Indulge in the wilderness of nature to retreat from the tame and discover the forest by being wild and free with these jungle stay resorts. These holiday trips will not only be adventurous but you will learn to appreciate, enjoy and preserve nature.
---
About SelfRoadiez
SelfRoadiez Travel Solutions Pvt Ltd through our online travel portal www.selfroadiez.com provides integrated self-drive holidays to offbeat destinations within India. We provide exclusive self-drive car rentals to travelers with a choice of multi-city car pick up points in India. We also offer drive holiday packages including accommodation, route planning, and experiential activities under custom travel plans. Thinking of a self-drive holiday? Call us to find out how we can help.