Sakleshpur's enchanting mountains, scenic roads, and lush coffee estates are perfect ingredients to make a good weekend holiday.
History 
A historical town, Sakleshpur has been ruled by Chalukyas and Hoysalas for many years. According to popular legends, during the reign of the Hoysalas, a broken Shivalinga was discovered here and the name 'Sakleshpur' came about. It is a picturesque town and a haven for trekkers. The scenic beauty of the coffee plantations and the cloud-draped mountains surely make this place perfect getaway from the eternal traffic and pollution woes of Bangalore.
Located in the Hassan district of Karnataka, Sakleshpur is a pleasant little hill station that lies tucked away in the Western Ghats. Situated at an elevation of 949 meters, Sakleshpur offers temperate climate, cool mountains where coffee, pepper, and many other spices are grown and produced.
Sakleshpur also has the distinction of being one of the places in India that house diverse flora and fauna. The pleasant temperate climate of Sakleshpur receives heavy rains during the monsoon season that allows different plant and animal species to thrive well.
Weather 
The weather at Sakleshpur is moderate and pleasant which makes it a perfect getaway destination for city dwellers. It is also noted to be one of the places that receive heavy rainfall in Karnataka. Best time to visit Sakaleshpur would be around February, March and from October to December.
Transport
Airports Closeby
The nearest Airport is in Mangalore from where one can drive down to Sakleshpur (via NH75) within 3 hours of time. 
Train Stations 
The nearest railway stations are – Subramanya Road Railway Station, Bangalore, Mangalore, and Hassan.
 Road Trips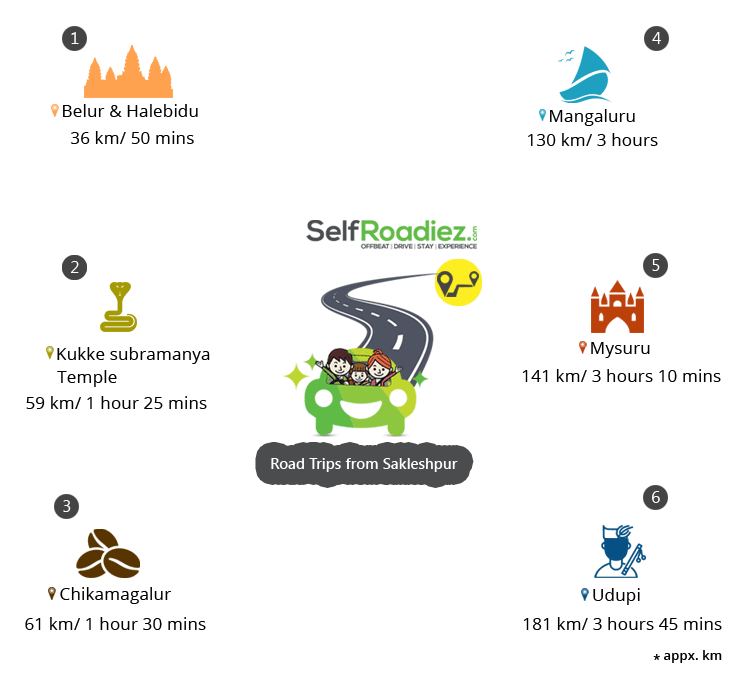 1) Sakleshpur > Belur & Halebidu
 Appx Driving Dist: 36 km / 50 Minutes
The twin cities of Belur and Halebidu are known for their beautiful architecture, which is a legacy of the Hoysala Empire that ruled from here for almost 150 years. Filled with ancient temples and exquisite art and architecture, Belur and Halebidu have much to offer its visitors. The Chennakesava Temple at Belur was built in the 12th century is an architectural marvel filled with intricately carved sculptures, friezes, and exquisitely sculpted panels. The grandeur and the heritage of these cities will take you on a fascinating journey through history and war.
2) Sakleshpur > Kukke Subramanya Temple
Appx Driving Dist: 59 Km / 1 Hour 25 Minutes
This beautiful temple of Lord Subramanya (Son of Lord Shiva) is situated 105 Km from Mangalore. Nestled amidst the picturesque Western Ghats this temple is home to an interesting legend about Subramanya. After vanquishing Surapadman and hoards of asuras, Lord Indra offered his daughter Devasena's hand in marriage to Subramanya. The devas hastened to bring holy waters to bathe the groom which later formed the river named Kumaradhara. Today, Darpana Theertha, a tributary of Kumaradhara flows right behind this temple.
Yet another legend about this temple is that King of Serpents Vasuki once hid in the caves of the mountain near the river to escape the wrath of Garuda. His prayers were answered here when Lord Subramanya blessed Vasuki and stayed with him to shield him against Garuda. Known as one of the seven holy places created by Sage Parushuram, this temple is also famous for healing those suffering from skin diseases. The temple is open from 5 AM to 2 PM and 3.30 PM to 9.30 PM.
3) Sakleshpur > Chikmagalur
Appx Driving Dist: 61 Km / 1 Hour 30 Minutes
A popular hill station in Karnataka, Chikmagalur is a quaint little town that offers breathtaking views, pretty streams and a touch of adventure. Karnataka's highest peak – The Mullayanagiri hill is one of the major tourist hotspots especially for trekking enthusiasts. There are many scenic spots, dams and lovely river streams in this city that would beckon you again and again.
4) Sakleshpur > Mangalore
Appx Driving Dist: 130 Km / 3 Hours
One of the chief ports of India, Mangalore is named after Goddess Mangaladevi. Strategically Mangalore has been a very important port all through history. Today, Mangalore is also known as a city that houses many important colleges in the stream of Engineering, Medical, Dental, Physiotherapy, Hotel Management etc. There are many interesting places to get around in Mangalore – Mangaladevi Temple, Shree Kalikamba Vinayaka Temple, Kudroli Gokarnanatha, Tannirbhavi Beach, Panambur Beach, Someshwara Temple, and Beach.
 5) Sakleshpur > Mysuru
Appx Driving Dist: 141 Km / 3 Hours 10 Minutes
South India's most favored destination, Mysuru (Mysore) is all about pleasant weather, royal palaces, and lush green gardens. Karnataka's second largest city, Mysuru was the capital during the rule of Wodeyar Royal family.
There are numerous places of interest in Mysuru that one can get lost in. The Palace of Mysore is one such place where history, heritage, culture and breath-taking grandeur will awe the visitors. Chamundi Hills that is situated 13 km from Mysuru has a magnificent Chamundeswari Temple that is worth a visit. Brindavan Gardens is yet another must-see in Mysuru itinerary. With acres of green trees, lawns and flowering trees, Brindavan Gardens also has many fountains that charm the visitors to no end.
6) Sakleshpur > Udupi
Appx Driving Dist: 181 Km / 3 Hours 45 minutes
The coastal town of Udupi popularly lends its name to inexpensive restaurants that serves delicious vegetarian food all over South India. Udupi is a very popular pilgrimage destination in South India. The Krishna Temple in Udupi is the main attraction in this town and is believed to be built almost 1500 years ago. Apart from the temple and the mutt, there are a few beaches around the area that are worth visiting – Kapu Beach, Malpe Beach, and St. Mary's Island.
Sight Seeing Places
There are many local attractions in Sakleshpur that are worth a visit. One can't come to Sakleshpur and not visit the Sakleshpur Temple that gave its name to the town. This ancient temple stands testimony to the magnificent architecture of the Hoysalas.
Manjarabad Fort is a local attraction in Sakleshpur that is worth a visit. Constructed by Mysore ruler Tipu Sultan in 1785, the Fort was a strategic defensive point and one can see the entire Western Ghats from its ramparts. Few other places such as Kukke Subramanya Temple, Bisle Ghat, Hemavathi River, Agni Gudda can be seen on a day's visit.
Places of Interest:
Accommodation
There are wide options for stays – home-stays, bed and breakfast establishments and hotels that have come up in Sakleshpur offering its visitors a weekend to savor. This place offers great weekend activities along the banks of River Hemavathy.
Here are a few suggestions verified by us
This Bungalow is by far the best place to relax. Whether, it is the ambiance or scenic beauty surrounding the bungalow, the time spent here is just simply enjoyable. One can enjoy a quiet walk in the tea estate or go on a picnic to the nearby water areas or sunset point except during the peak monsoon season. 
The bungalow has nine bedrooms spanning across three divisions. The first division, which is in the house, has four rooms, while the other divisions have a suite-like cottage, twin cottage, and the partner's wing. Further, the bungalow as a whole has a very homely feel with antique decor.  One of the things the bungalow can boast of is its simple and tasty food.
If you want to experience the true character of life in a village, then this countryside homestay is the perfect destination for you. This Homestay reflects the charm of a bygone era as it houses antique objects meticulously collected and displayed.
Each room has a unique character and is cozily comfortable. The rooms offer views of paddy fields and the greenery all around. The house also has a sit-out lounge area that provides scope for some social interaction and relaxation.
An eco-friendly abode, the homestay surroundings are a collective treasure house of nature's bounty ranging from marvelous waterfalls to mesmerizing streams. While here, guests can stroll close to the paddy fields or just experience the countryside atmosphere.
With a gently flowing River close-by, this stay offers you a slice of heaven right here on Earth. Part of the Western Ghats Range in the Malnad region of Karnataka, this homestay offers accommodation in cottages that incorporate all the five elements of nature. During the monsoon, the beauty of the river is at its pinnacle with water gushing down and turning the banks into a lush green carpet. 
Travel Tidbits
Sakleshpur is still an offbeat destination that offers unspoiled picturesque hill views and cool misty air that makes it a great place to recuperate, de-stress and rejuvenate oneself. One can even say that it is a perfect weekend getaway that is made exclusively for road trips. So go for it.
---
About SelfRoadiez
We find PLACES that are UNCROWDED, has a story to EXPLORE, gets your nerves to RELAX, lets you CONNECT to your roots and simply lets you have a FABULOUS DRIVE HOLIDAY with your loved ones around.
Wish to Book a Self-Drive Car Rental, Offbeat Holiday Stay, Unique Tour Experiences or get a curated vacation plan for your next holiday travel?  Visit the site or Call us to discuss!