Lakshadweep, a peaceful haven and a perfect destination for those who want to get away from the hustle and bustle of cities. India's smallest Union Territory of Lakshadweep – literally meaning 100,000 islands – is actually a group of 36 pristine atolls and islands in the Laccadive Sea, around 200-440km off India's southwestern coast.
History
Formerly known as Laccadive, Minicoy and Amindivi islands, the archipelago of Lakshadweep comes from the Sanskrit word 'Lakshadweepa' which means 'one hundred thousand islands'. Out of the 36 islands, 10 are inhabited, 17 are uninhabited, 4 are newly formed islets and 5 are submerged reefs. Of the inhabited ones, the chief ones are Kavaratti (the capital), Minicoy, Amini, Kalpeni Andrott (Andrott is now off-tourism) and Agatti, which also happen to be the oldest inhabited islands. Kavaratti, Agatti, Bangaram, and Amini lie close to each other, while Minicoy lies around 260km to the south. 
Lakshadweep has a long and interesting history, especially since they do not have any aboriginal communities. The earliest to rule the area seems to be the mighty Cheras of South India, who ruled from Kerala. During the 5th–6th century AD, there are indications of Buddhism having prevailed in the region. According to popular beliefs, an Arab named Ubaidulla brought Islam to the Islands in 661 AD, and his grave lies on Andrott island. Later, the islands were ruled by the Cholas, the Cannanore dynasty, the Portuguese, the Ali Rajahs of Kannur and Tipu Sultan. There is even mention of stories of Lakshadweep by historic traveler Ibn Batuta.
After the third Anglo-Mysore war, Lakshadweep came under the purview of British India and became attached to the Malabar district of the Madras Presidency. After the Indian states were reorganized in November 1956, the Laccadive, Minicoy and Amindivi Islands became a Union Territory, adopting the name 'Lakshadweep' in 1973. To safeguard Indian shipping lanes and waters, Kavaratti Island became an Indian Navy Base subsequently. 
Weather 
The Lakshadweep islands have a typically tropical climate. The best season for visiting Lakshadweep is from September to May when the temperatures are between 22 to 36 degrees Celsius, and is thus ideal for all tourist activities. The monsoons (June to August) see very heavy rainfall and winds, and might not offer access to some islands in the archipelago. Winters (December to February) see temperatures between 20 and 32 degrees Celsius.
Transport 
Airports Closeby
The nearest airport is at Kochi, which is a 1 hour 20 minutes flight from Agatti Island.
Train Stations 
The nearest railway station is at Kochi
Ferries and Cruises 
The only way to reach Lakshadweep is via flights to Agatti Aerodrome or via ships from Kochi. The only way to travel between the inhabited and allowed islands is either via ferry or helicopter flights. The ferries are either government-mandated ships and private vessels. Travelers (Indian and foreigners) will require a special permit to visit Lakshadweep. Furthermore, tourists are allowed only the islands of Kadmat, Agatti, Minicoy and Bangaram, and 12 hours in Kavaratti.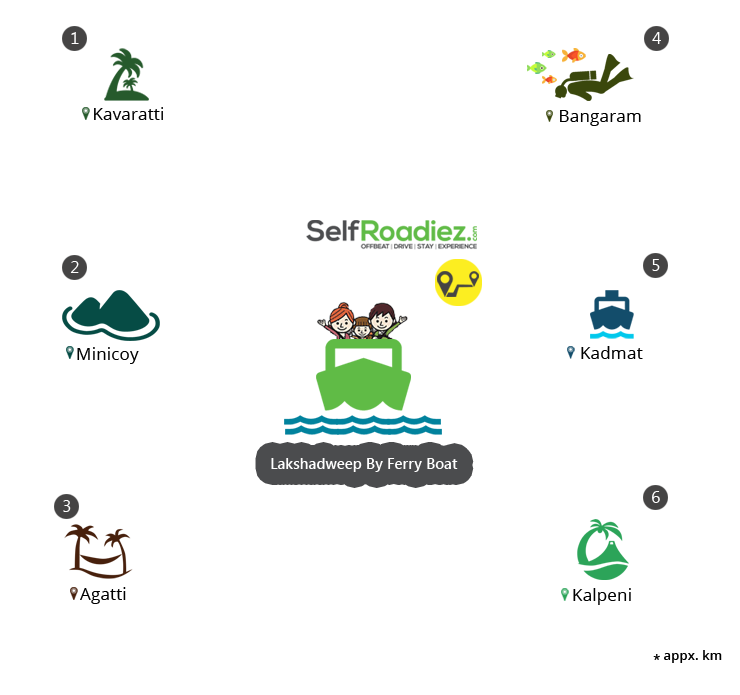 1) Kavaratti 
Kavaratti can be reached by multiple means of transport including a helicopter, ferries, ships and passenger boats from Cochin (220 N. miles), Agatti (30 N. miles), Amini (40 N. miles), Kadmat (40 N. miles) and other islands as well. The journey takes between 12 to 14 hours It is the capital of the Union Territory of Lakshadweep. Travelers can visit the Marine Museum on the island, the Ajara and Jamnath Mosques and the unmissable Dolphin Dive Centre. The biggest draw of Kavaratti are the lagoons and beaches where one can enjoy various sports such as water skiing, parasailing, scuba diving, windsurfing, snorkeling, rowing and boat rides on glass-bottomed boats and motorboats.
2) Minicoy 
The southernmost atoll of the Lakshadweep, Minicoy is half a day's boat ride away from the other chief Lakshadweep islands. The former ancient capital of Lakshadweep, Minicoy was originally called Mahiladū (literally meaning 'Women's Island') and is now locally known as Maliku. Minicoy's cultural traits are closer to those of Maldives and the islands south of Minicoy, and the island interestingly has a matrilineal Muslim society. Places to see include the British-era white lighthouse hoisting the Indian tricolor, and the Juma Masjid. Travelers can indulge in water sports and activities, visit the tuna canning factory or simply drive through the lush green coconut groves. 
3) Agatti
Agatti Island is where most tourists get into Lakshadweep and then transfer to the other islands. Flights go to Agatti every day except Sunday. One can even take passenger ships from Cochin to Agatti which takes about 12-14 hours. The crystal-clear waters of Agatti island are perfect for activities such as kayaking, water skiing, sailing, deep sea fishing, scuba diving and snorkeling and simply swimming in the blue waters. One can even experience the fish hatchery process, which not many know about, and visit the Golden Jubilee Museum, the only museum in Lakshadweep, and the 16th-century Mohiuddin Mosque. 
4) Bangaram 
Bangaram Island is one of Lakshadweep's top draws with coral, bird and tortoise sightings, drawing tourists from afar. Bangaram can be reached via boat from Agatti Island, which takes around 1½ hours. The island is also one of the best places to indulge in scuba diving due to its crystal-clear waters. Relax in the rustic cottages of Bangaram. 
5) Kadmat 
Kadmat Island, also known as Cardamom island, is the only island apart from Bangaram and Agatti where foreign tourists are allowed. The island has one of India's finest diving spots and has a full-fledged Dive School and a Water Sports Institute where tourists can head to indulge in all sorts of water activities. The island is also famous for accommodating only 48 tourists at one time so all tours to Kadmat are pre-arranged. 
6) Kalpeni 
Pitti, Tillakkam and Cheriyam islands jointly make Kalpeni Island. Travelers can enjoy adventurous water sports and activities such as kayaking, yacht sailing, reef walking, canoeing, scuba diving and snorkeling. The island is famed for its gorgeous turquoise lagoon where one can spot several types and colors of corals here. 
Sight Seeing Places
Each of Lakshadweep's islands offers different activities for travelers to do and different places to see, the only common factor being the crystal clear blue waters all around. Apart from doing the activities, travelers can also explore some of the islands on foot to take in their beauty.
Accommodation 
Only the islands of Agatti, Bangaram, and Kadmat have resorts and guesthouses (maximum one or two per island) for travelers to stay, and accommodation is limited on the other islands. 
Travel Tidbits
Lakshadweep is India's only coral atoll. Every traveler, whether an Indian or a foreigner, requires a special permit to visit the islands and a visit to Lakshadweep can only be done via prearranged tours. The easiest way is to book a packaged tour via SPORTS, the government's tour operator, who can not only sort out permits and entry but also hotels and accommodation. Also, foreigners can only visit the islands of Kadmat, Bangaram, and Agatti, and maximum 12 hours in Kavaratti. Indians may visit the other islands like Kalpeni and Minicoy, but the accommodation is limited. 
Lakshadweep is a hidden gem of sorts in the Indian peninsula, and travelers must visit it before it gets plagued by commercialization.
---
About SelfRoadiez
We find PLACES that are UNCROWDED, has a story to EXPLORE, gets your nerves to RELAX, let's you CONNECT to your roots and simply lets you have a FABULOUS DRIVE HOLIDAY with your loved ones around.
Wish to Book a Self-Drive Car Rental, Offbeat Holiday Stay, Unique Tour Experiences or get a curated vacation plan for your next holiday travel?  Visit the site or Call us to discuss!