Kalasa is a holy temple-town located on the banks of Bhadra River, 92 km south-west of Chikkamagaluru in Karnataka. 
History
The word Kalasa has been adapted from Sanskrit word-Kalash, which means a jug or a pot. It is a small town situated in the Western Ghats, which has been recognized by UNESCO as World Heritage place for its biodiversity. It is said that the Western Ghats are older than the Himalayas. It is situated in close proximity to the birthplace of 4 major rivers of Karnataka namely Tunga, Bhadra, Netravathi and Hemavathi. Bhadra River surrounds Kalasa from three sides.
The origin of this place can be traced back to mythology. This place was ruled by Vijayanagara kings and later by Keladi rulers and also by Jain ruler Bhairava Arasa of Karkala. At his time, this city was the kingdom of Karkala hence you can see some Jain temples also in Kalasa. There are many shila shasanas at Kalasa temple to suggest this and all the writings in the stone are mentioned in epigraphy of Karnataka.
Weather
Anytime is a good time to visit Kalasa, barring the torrential rain-pouring seasons.  For religious purposes, the best times to travel are during the months of November –April as it hosts numerous festivals around that time.
Transport
The best option is to hire a car through self-drive rentals from the closest Airports like Mangalore/ Bangalore International Airport which are accessible to Kalasa via road.
Airports Closeby
Mangalore International Airport (Bajpe Airport) at a distance of 110 km and Kempegowda (Bangalore) International Airport is at a distance of 333 km are the closest airports to Kalasa
Train Stations 
Udupi Railway station at a distance of 64 km and Mangalore Junction at a distance of 65 km are the closest stations to Kalasa
Road Trips: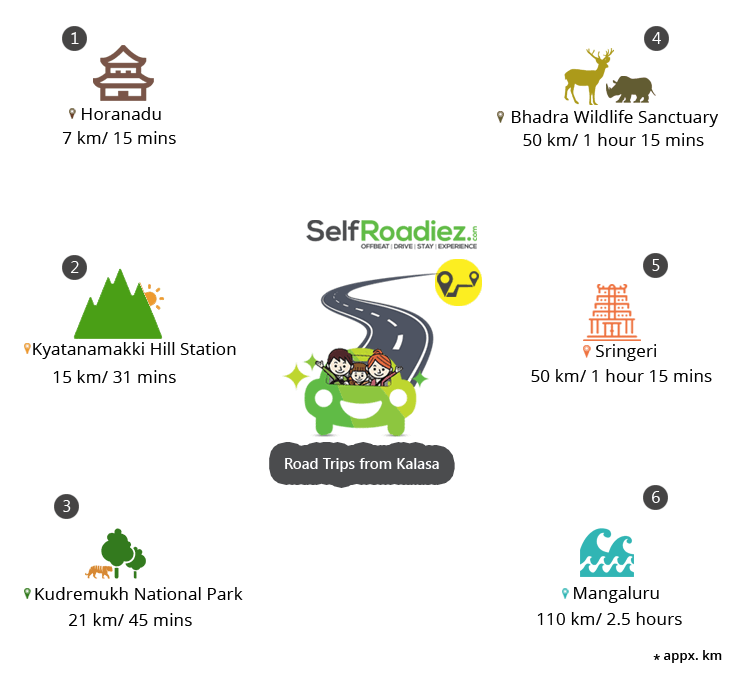 1) Kakkayam > Horanadu
Appx Driving Dist: 7 Km/ 15 Minutes
Hornadu, also known as Horanadu, is a Hindu holy locale and Panchayat village located in Chikkamagaluru district, Karnataka, India. The deity at the Annapoorneshwari Temple at Hornadu is Annapurneshwari.
2) Kakkayam > Kyatanamakki Hill Station
Appx Driving Dist: 7 Km/ 15 Minutes
Kyatanamakki hill station is located near Horanadu of Chikmagalur district of Karnataka, it is a fully off-road route, 4×4 jeeps ply around the hill base to top
3) Kakkayam >Kudremukh National Park
Appx Driving Dist: 21 Km/ 45 Minutes
The park consists of 600 km² of undulating mountains and tropical wet evergreen forest. It began its existence as a Reserved Forest in 1916 and was designated a national park in 1987. Kudremukh means 'horse face', and is in reference to the appearance of a mountain peak located within the park.
4) Kakkayam >Bhadra Wildlife Sanctuary
Appx Driving Dist: 50 Km/ 1 Hour 15 Minutes
Bhadra Wildlife Sanctuary is a protected area and a tiger reserve as part of Project Tiger, located 23 km south of Bhadravathi town and 38 km northwest of Chikkamagaluru town in Karnataka state, India Bhadra sanctuary has a wide range of flora and fauna and is a popular place for day outings.
5) Kakkayam > Sringeri
Appx Driving Dist: 50 Km/ 1 Hour 15 Minutes
Sringeri  also called Sri Kshetra Shringeri is a hill town and Taluk headquarters located in Chikkamagaluru district in the state of Karnataka, It is the site of the first maṭha (Sringeri Sharada Peetham) established by Adi Shankara, Hindu theologian and exponent of the Advaita Vedanta philosophy, in the 8th century CE It is located on the banks of the river Tungā .
6) Kakkayam > Mangaluru
Appx Driving Dist: 110 Km/ 2 Hours 30 Minutes
Mangalore (or Mangaluru) is an Arabian Sea port and a major commercial center in the Indian state of Karnataka. It's home to the Kadri Manjunath Temple, known for its bronze statues, and the 9th-century Mangaladevi Temple. Its Catholic sites include Milagres Church, dating to the 17th century, and St. Aloysious Chapel, which features interior paintings. Tannirbhavi Beach is popular for its sunset views.
Sight Seeing Places
Kalasa is a blessed place of Mother Nature with rivers, mountains, waterfalls and scenic locales. There is everything for everybody. Despite known as the pilgrimage tourism spot, Kalasa doubles up as a wonderful spot for honeymooners, adventure seekers, nature lovers alike. Bhadra Wildlife Sanctuary and the Kudremukh National Park are nearby. There are also plenty of waterfalls to visit
Accommodation
Kalasa has a few good accommodation options to choose from.
Here is our suggestion
This homestay has an enchanting view as it is set in the backdrop of the Western Ghats, the birthplace of the rivers – Netravathi, Bhadra, Tunga, and Hemavathi. A stay here is a unique experience as the place truly represents the beauty of Chikkamagaluru district – the land of spices, coffee, and tea plantations not to mention various legends.
This Homestay has large bedrooms that provide magnificent views of the misty mountains and green coffee plantations. The traditional Malnad food cooked here further makes you feel at home. 
Travel Tidbits
Predominantly South Indian form of food cooked with local style can be found here. Jack fruit, Bamboo shoot, medicinal leaves and herbs, raw banana, etc are usually used in the local dishes like Patrode, Tambuli, Halu bayi, Hayagriva, etc and served with Akki Rotti, Kotte Kadubu, Neeru Dose,
In non-veg dishes you can try Nati Koli Saaru, Puli Munchi as these are the most preferred local dishes.
---
About SelfRoadiez
We find PLACES that are UNCROWDED, has a story to EXPLORE, gets your nerves to RELAX, let's you CONNECT to your roots and simply lets you have a FABULOUS DRIVE HOLIDAY with your loved ones around.
Wish to Book a Self-Drive Car Rental, Offbeat Holiday Stay, Unique Tour Experiences or get a curated vacation plan for your next holiday travel ?  Visit the site or Call us to discuss!