The glorious land of the Cholas a heritage city, Thanjavur offers spectacular temples, art, architecture, painting, and food to its visitors. 
History
There is a lot of history in Thanjavur, so much so that one wonders where to begin from! Known as the 'rice bowl of Tamil Nadu' Thanjavur is located in the Cauvery Delta and is an important agricultural center. The name 'Thanjavur' is believed to be derived from a legendary demon called 'Tanjan' who was slain by Neelamegha Perumal – an avatar of Lord Vishnu.
Thanjavur was the capital of medieval Cholas and it was during their reign that it became prominent for art and architecture. King Raja Raja Cholan built the magnificent Brihadeshwarar Temple during this period as was many other temples by his successors. After the reign of Cholas, the city was ruled by various dynasties – Pandyas, Vijayanagar Empire, Madurai Nayaks, Thanjavur Nayaks, Thanjavur Marathas, British Empire etc. The golden period of this city was obviously when it was under the rule of the medieval Cholas. King Vijyalaya Chola (841 AD – 878 AD) overthrew Muthraiyar dynasty and took control of the city. 
Numerous temples, structures that were built by the Cholas Kings during the medieval period still exist today as a glorious reminder of the beautiful heritage.
Weather
Thanjavur enjoys tropical weather, just like any other city in South India. The best time to visit Thanjavur would be from October to March. From March to May the weather can be extremely hot with the temperature rising up to 40°C.
Transport
Airports Closeby
The nearest airport is at Tiruchirapalli, which is about an hour's journey from Thanjavur. Thanjavur is well connected by the national highway and has regular bus service.
Railway Stations
The many passenger trains pass through the railway station at Thanjavur and also stops over connecting to many important cities in South India.
Road Trips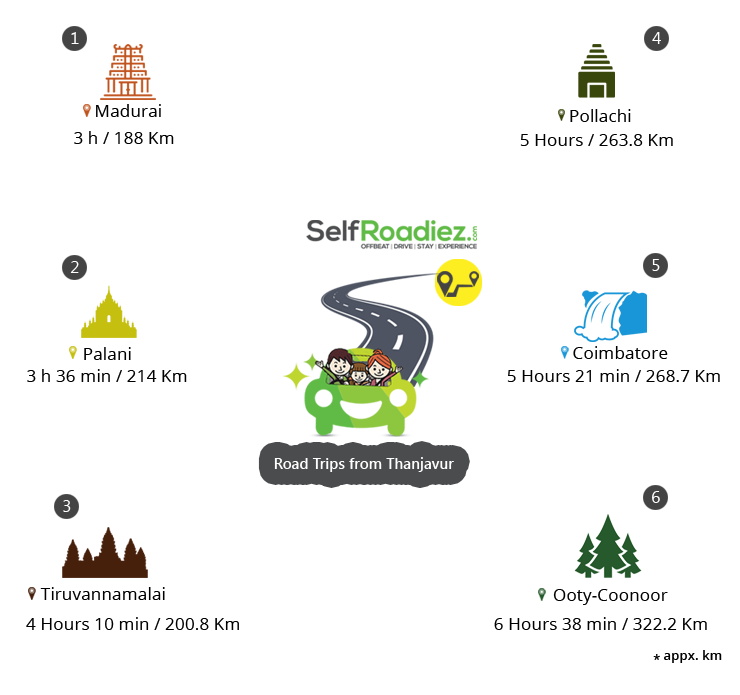 1) Thanjavur > Madurai
Appx Driving Dist: 188 Km / 3 Hours 
Known as one of the oldest continuously inhabited cities in the world, Madurai is an ancient settlement whose existence stretches as far as 3rd Century BC! Ruled by many prominent dynasties at different timelines, Madurai was the stronghold of the Pandyas and their ancient capital. They were also ruled by Cholas, Madurai Sultanate, Vijayanagara Empire, Madurai Nayaks, Carnatic Kingdom and the British. There are many popular sites of attraction in Madurai that are worth a visit – Meenakshi Amman Temple, Tirumalai Nayak Palace, Alagar Koil, Tiruparakundaram Temple, Pazhamudhir Cholai, Vaigai Dam, Kazimar Big Mosque and Maqbara etc.
2) Thanjavur > Palani Hills
Appx Driving Dist: 214 Km / 3 Hours 36 Minutes
A temple town located in the Dindugal district, Palani is where the famous Palani Murugan Temple is situated atop a hill. Over 7 Million devotees visit this town every year to visit this sacred shrine. Apart from Palani temple, there are many other famous temples in this city that are worth a visit – Pada Vinayakar Temple, Periyanayaki Amman Temple, Saravana Poigai Pool, Mariamman Temple, Bison Wells Wildlife area, Varathamanathi Dam etc.
3) Thanjavur > Tiruvannamalai
Appx Driving Dist: 200 Km / 4 Hours 10 Minutes
A mystic temple town, Tiruvannamalai's most popular shrine is the Annamalai temple. Located at the footsteps of Annamalai hills, this historic city was ruled by Pallavas, Medieval Cholas, Hoysalas, Tipu Sultan and later the British. If you are visiting Tiruvannamalai during Chitra Pournami or Guru Purnima days then you can take a walk around the Annamalai mountain range along with lakhs of devotees. Saint Ramana Maharishi's Ashram is also worth a visit.
4) Thanjavur > Pollachi
Appx Driving Dist: 264 / 5 Hours 
A filmmaker's delight, Pollachi is famous for its pleasant temperate climate and lush terrace gardens. It also has the distinction of being the most favored destination for the film industry to shoot movie songs. Pollachi is also famous for its vegetables, tender coconuts and Jaggery so you should check out the local markets while you are here.
5) Thanjavur > Coimbatore
Appx Driving Dist: 269 / 5 Hours 21 Minutes
A historic town, Coimbatore is also known as Kovai. The largest city in the Kongunadu district, Coimbatore is known for its textile, automobile and automobile parts industries. There are many places of interests in Coimbatore such as – Marudamalai Temple, Dhayanalinga Temple, Eachanari Vinayagar Temple, Marudhamalai Hill Temple, Kovai Kutralam Falls etc.
6) Thanjavur > Ooty-Coonoor
Appx Driving Dist: 322 Km / 6 Hours 28 Minutes
Udhagamandalam (better known as Ooty) and Coonoor are best known for their pine forests and tea plantations. Travelers can do mountain biking, angling, trekking, and hiking, do boating and fishing in the Pykara Lake, enjoy the views at Doddabetta peak and Silent valley and Doddabetta peak, visit Coonoor tea plantations and Ooty's botanical gardens and ride on the Nilgiri mountain railway.
Sight Seeing Places
Thanjavur is a haven for a cultural holiday and those who wish to soak into South India's heritage must make a trip here. First and foremost the most important heritage monument to visit in Thanjavur would be the Brihadeshwarar Temple. Built in the early 11th century by Chola Emperor Raja Raja Cholan, this monumental Shiva temple is a fine example of Dravidian architecture. Built like a fortress the temple represents the power, wealth, art and architecture of the medieval Cholas.
Thanjavur Royal Palace is yet another interesting place to visit. Built in the 16th century, this was the seat of Maratha rulers in Thanjavur.
Siva Ganga Garden grounds make a great picnic spot for those traveling with their families. Located within the Vijayanagara Fort and near to the Thanjavur Palace, the garden features a large square tank built in the 16th century to provide water to the Palace residents. 
Other places of interest in Thanjavur are – Airateswarar Temple, Keelaperumpallam Temple, Vellai Puliar, Grand Anicut, The Serfoji Sarasvati Mahal Library, Guru Bhagawan Temple, Chandra Bhagawan Temple etc.
Accommodation
From budget hotels to lavish resorts, one can find great accommodation in this temple town. There are many heritage hotels and homestays that offer a great glimpse of Thanjavur's famous hospitality to their patrons.
Here are a few suggestions verified by us
Located in the heart of the city, in close proximity to the ancient Thanjavur Palace, this boutique hotel dates back to the 1920s and was once a wealthy merchant's mansion. It is an amalgamation of tradition with modernity.  
There are 14 spacious rooms at this Heritage Boutique Stay in Thanjavur. Each of the rooms features elegant wood furniture stunning photographs and artwork. Air conditioning is available in all the rooms which also have organic linen in keeping with the eco-conscious theme.
This a traditional, eco-friendly resort built around a unique concept, the architecture and activities of the property give heavy emphasis to the elements of faith, spirituality, and traditional values.
The resort has three room categories, namely Mantra Cottage, Mantra Illam, and Mantra Panaiyar Illam. All these rooms are traditionally built and may look rustic outside, but they contain every modern facility you need for a comfortable stay such as Wi-Fi access, power back-up, and in-house laundry.
Travel Tidbits
One can't visit Thanjavur without enjoying their hearty cuisine. Art and culture are the highlights of this city. Their Tanjore Paintings are famous all over the world and the Thanjavur dolls with nodding heads make a great souvenir to take back home.
Thanjavur is a dream destination especially for those who love to experience the old-world hospitality and quaint customs.
---
About SelfRoadiez
We find PLACES that are UNCROWDED, has a story to EXPLORE, gets your nerves to RELAX, lets you CONNECT to your roots and simply lets you have a FABULOUS DRIVE HOLIDAY with your loved ones around.
Wish to Book a Self-Drive Car Rental, Offbeat Holiday Stay, Unique Tour Experiences or get a curated vacation plan for your next holiday travel?  Visit the site or Call us to discuss!