Tiruvannamalai is a mystic town named after Annamalaiyar (main deity of Annamalai Temple). 
History
Tiruvannamalai is around 185 km away from Tamil Nadu capital Chennai and 210 Km away from Bangalore. A historical town, Tiruvannamalai has been under the rule of Cholas and Pallavas. The Hoysala Kings used the town as their capital in 1328. Most popular Vijayanagara King Krishnadeva Raya made endowments for the king and these inscriptions can be seen even today among others. Around 17th century AD, the town came under the rule of Nawab of Carnatic. For a short period of time, the French ruled over it and then Tipu Sultan from whom the British conquered.
The history of Tiruvannamalai revolves around its ancient temple. Known as Tamil Nadu's holiest destinations, the hillock of Tiruvannamalai is worshiped as Lord Shiva in his lingam form. Lord Shiva is worshiped in the form of fire here. According to myths, once Goddess Parvathi playfully closed Shiva's eyes without realizing that it would plunge the entire world into darkness. She performed penance to atone for her sin and entreated Shiva to give light to the world. Lord Shiva appeared as a column of fire on top of the hill and then merged his form with that of Parvathi to form Ardhanarishvara (Half male and half female). The hill behind the temple signifies the holiest form of Shiva – the Lingam and he is worshiped as 'Arunachalam' in the temple.
During the holy Tamil month of Karthigai (November 16 – December 16) a flame is ritualistically lit on the hilltop to signify Shiva's eternal form as a flame and three million devotees and pilgrims celebrate the festival in this temple town. The day before each full moon and especially during Chitra Purnima and Guru Purnima, lakhs of pilgrims circumvent the holy hill as a form of worship called 'Girivalam'.
Weather
Tiruvannamalai experiences hot and dry weather all through the year except during the months of October, November, and December when there is rainfall.
Transport
Airports Closeby
Nearest Airport to Tiruvannamalai is located in Chennai at 172 Km.
Train Stations
Tiruvannamalai has a train station that is connected to cities like Madurai and Tirupati. Many trains from Chennai stop weekly (some daily) at this station.
Road Trips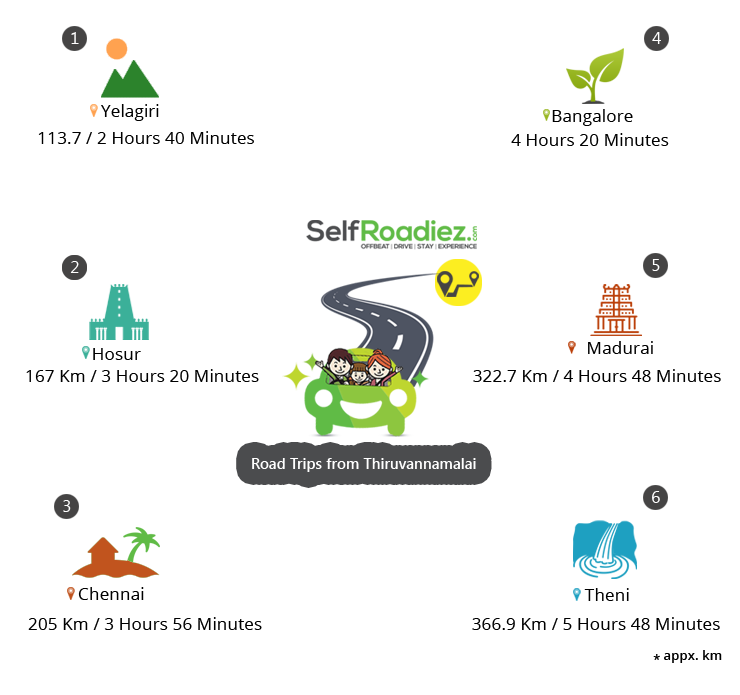 1) Tiruvannamalai > Yelagiri
Appx Driving Dist: 114 Km / 2 Hours 40 Minutes
Situated at an altitude of 1,110 meters above sea level, Yelagiri is a small hill station surrounded by lovely orchids, rose gardens and green valleys. An offbeat destination, Yelagiri is a haven for those who love adventure sports such as rock climbing and paragliding. Some of the places of interest that you could visit while in Yelagiri are – Punganoor Artificial Lake-cum-Park, Jalagamparai Waterfalls, and Swami Malai Hills.
2) Tiruvannamalai > Hosur
Appx Driving Dist: 167 Km / 3 Hours 40 Minutes
Also known as the satellite town of Bangalore, Hosur is a pleasant place to visit. Hosur was a part of the Mysore Kingdom and the rule of Tippu Sultan for a long time until he lost it to the British. Some of the places of interest in Hosur would be – Chandira Choodeswarar Temple, Kelevarapalli Dam, Rajaji Memorial.
3) Tiruvannamalai > Chennai
Appx Driving Dist: 205 Km / 3 Hours 56 Minutes
The capital of Tamil Nadu, Chennai aka Madras is popularly known as the Detroit of South Asia. A cultural city with a rich history, Chennai is conservative, traditional and yet modern with a motley mixture of contrasts that boggles its visitors. BBC named this city as one of the best cities to live in India not to mention the safest in terms of crime. There are numerous places of interest that one can visit while in Chennai – Marina Beach (world's first longest urban beach), Mahabalipuram (a beautiful sculptural town built by Pallava Kings), Fort St. George, Kapaleeshwarar Temple, Santhome Church, Madras Crocodile Bank, Guindy Snake Park, Egmore Museum and Cholamandalam Artist Village.
4) Tiruvannamalai > Bangalore
Appx Driving Dist: 20 Km / 4 Hours 27 Minutes
The city of Bangalore needs no introduction. The capital city of Karnataka State is also known as the 'city of gardens' and is home to the top software companies in India and the world. A cosmopolitan city, there is no dearth of places that one can visit while in Bangalore – Wonderla Amusement Park, ISKCON Temple, Lalbagh Botanical Garden, Visveshwaraya Industrial & Technological Museum, Basavangudi, Bannerghatta National Park, Pyramid Valley etc.
5) Tiruvannamalai > Madurai
Appx Driving Dist: 323 Km / 4 Hours 48 Minutes
This beautiful ancient temple city is known for its rich Tamil heritage and culture. Located on the banks of river Vaigai, the city is built with concentric quadrangular streets with the Meenakshi Amman Temple at its center.  With several historical monuments, it is the best place to visit to know the real culture and heritage of Tamil Nadu.
6) Tiruvannamalai > Theni
Appx Driving Dist: 367 Km / 5 Hours 48 Minutes
Theni is a picturesque town situated in the foothills of the Western Ghats on the Tamil Nadu and Kerala border. Surrounded by lush hills, rivers, and lakes, Theni is known for its pleasant climate. Suruli waterfalls, Meghamalai hills, Kumbhakarai falls, Kurangani falls and tiger falls are must-visit blissful places.
Sight Seeing Places
While Arunchaleshwarar Temple brings on scores of pilgrims to the mystic city of Tiruvannamalai, there are many other places that are worth a visit in this city. Ramana Ashram where Ramana Maharishi attained Samadhi is a peaceful quiet place to visit especially for those who wish to meditate. Gingee Fort, an inaccessible strong fort that was once described by the British as 'Troy of the East' is a must-see for those who love to dabble in history. Tiruvannamalai is also home to many other temples that are very popular with the pilgrims – Kubera Lingam Temple, Manakula Vinayagar Temple, Om Shakti Temple, Kamatchi Amman Temple, Kali Amman Temple etc.
Accommodation
In a temple town like Tiruvannamalai, you will find accommodation that would suit all sorts of budget and comfort levels. There are resorts that combine spirituality, yoga, and satvik living and offer foreign travelers a taste of what India is really like. Most of these resorts offer spa services and Ayurveda treatment to their guests. There are other star hotels that offer great accommodation for their visitors. Budget hotels, lodges, and homestays are available too for those who wish to make a pilgrimage here.
Here is a resort which we recommend
This Serene Resort At Athiyanthal has buildings made of eco-friendly materials like stone and bricks and is within walking distance of the mountain. The entire property, which has been designated an Ecotel Resort, is a smoke-free and alcohol-free zone. A host of services aimed at providing guests with a comfortable stay is available at this resort which includes a luggage storage facility, chauffeur accommodation, foreign currency exchange, doctor on call and travel assistance among others. 
The resort is dotted with rustic cottages equipped with all modern amenities. All rooms offer spectacular views of Mount Arunachala and the surrounding landscape. 'Sathvam', the restaurant on the property has an extensive vegetarian menu for guests to choose from and room service is also available.
Travel Tidbits
Culture, philosophy, heritage and a huge dollop of history await those who visit this mystical town. According to myths, Annamalai Temple is one of the Pancha Bootha Stala. In other words, it is the manifestation of five elements of nature – Fire, Wind, Land, Air, and Sky. Yet another interesting tidbit that pilgrims swear by is that those who circumambulate the Annamalai hills (14 Kilometers) barefoot will shed all their sins, fulfill desires and achieve freedom from the cycle of birth and death.
Tiruvannamalai has a mysterious allure for devotees with an interesting history, steep cliffs, and dangerous precipice. The great saint Ramana Maharishi once said that the Mount Arunachala had a special energy around it and it enriched those who went around it and calmed the minds of those who stayed here longer. That's probably why this mystic town is so much more than any run-of-the-mill holy town.
---
About SelfRoadiez
We find PLACES that are UNCROWDED, has a story to EXPLORE, gets your nerves to RELAX, lets you CONNECT to your roots and simply lets you have a FABULOUS DRIVE HOLIDAY with your loved ones around.
Wish to Book a Self-Drive Car Rental, Offbeat Holiday Stay, Unique Tour Experiences or get a curated vacation plan for your next holiday travel?  Visit the site or Call us to discuss!