Coonoor, a quieter city near Ooty is the second largest hill station of Nilgiris, situated 1850 m above sea level.  
History
Coonoor the home ground of Toda tribe is bestowed with beautiful landscapes and has a pleasant weather condition all year round, unlike Ooty that can totally freeze during peak winter. The structural face of Coonoor sports many heritage buildings and features some of the most expensive residential schools in Nilgiris. 
Located at the head of Hulikal ravine of the Nilgiris, Coonoor is densely populated with colorful wildflowers and beautiful rare birds. With panoramic views of the Nilgiri hills and lush green valleys, Coonoor is a travelers' delight as it is one of the few places that offers bird watching as a popular activity. From Cormorants, Pipits, Thrushes, Parakeets to Skylarks, Nilgiri Verditer, this quaint hill station is one-of-its-kind.
When Coonoor was discovered by a Britisher in 1819, they lost no time in establishing their settlements and brought along with them the tea plantations. Originally served as British boarding schools, now they have been customized to suit the current Indian schooling systems.
Weather
Coonoor enjoys salubrious weather all through the year. The best season to visit Coonoor would be from March to May, June to September and December to March. During the winter the temperature dips to a minimum of 15°C and during the summer it peaks up to 25°C making it a pleasant place to visit in any season.
Transport
Coonoor is well connected from various major cities with the nearest Coimbatore airport located at 80 km. Air travel is faster, trains are good, but for a scenic drive, roads provide the best option for buses plying every few minutes from nearby cities and towns to Coonoor.
Airports Closeby 
The nearest Airport is in Coimbatore from where one can drive down to Coonoor (via NH 181) within two hours 30 minutes.
Train Stations
Trains connect Coimbatore station from all over India from where one can board the Nilgiri Mountain Railway which has the only rail stop at Coonoor between Mettupalayam and Ooty. The toy train that runs from Ooty and Mettupalayam passes by Coonoor too.
Road Trips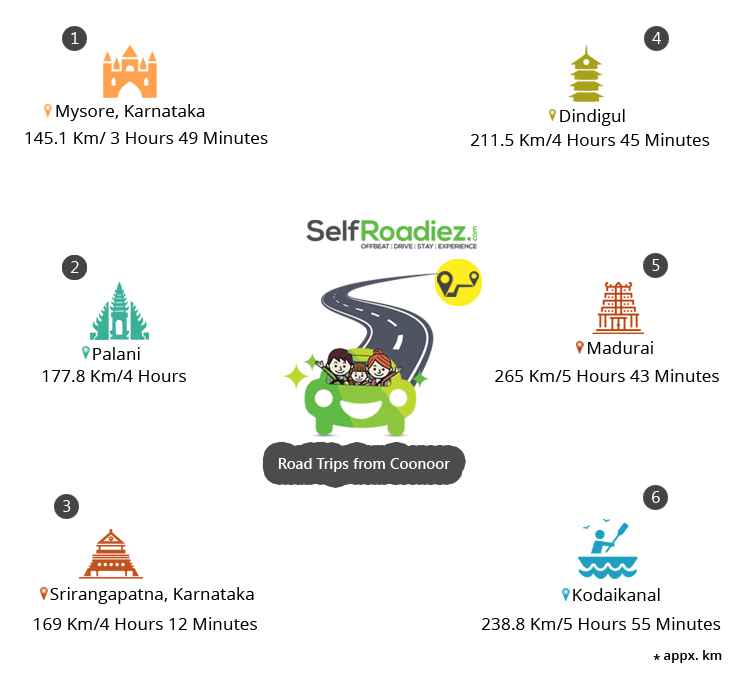 1) Coonoor > Mysore
The capital of the erstwhile Maharaja of Mysore, Mysore is a heritage city that offers us a glimpse into the past glories of our land. A city of palaces, Mysuru is a place that one should not miss to visit. There are many and more places to visit in Mysuru while on a day's visit. Notable palaces such as Amba Vilas (otherwise known as Mysore Palace) the seat of the Mysore royal family when they ruled over the Kingdom is as stately as it is beautiful. Jagamohana Palace which was used by the royalty is today the royal art gallery containing the largest collection of art and artifacts and many prominent paintings of Raja Ravi Verma. Jayalakshmi Vilas is yet another palace that was built by Sri Chamaraja Wodeyar for his daughter. Other places of interest would be Sri Chamarajendra Zoological Gardens, Sri Chamundeswari Temple, Brindavan Gardens and Mysore Sand Sculpture Museum.
2) Coonoor > Palani Hills (Tamil Nadu)
One of the most popular temple destinations in South India, Palani Hills is the most important abode of Lord Muruga (Son of Shiva and God of War). Palani Hills lies in the east of the Western Ghats and runs parallel to the West Coast of India. One of the must-see temples in Palani is the Palani Temple where Lord Muruga stands as Dandayudhapani (the one with the staff) and blesses his devotees. Built in 9th century AD, Palani Temple devotees can climb 693 steps or travel via the Winch or Rope Way System. There are many other temples of interest in and around Palani Hills namely – Tiru Avinankudi, Kannadi Perumal Temple, Idumban Temple etc.
3) Coonoor >  Srirangapatna
Situated in the Mandya district of Karnataka, Srirangapatna is a river island and a religious city centered on the celebrated Ranganathaswamy Temple. Built by the Ganga Kings, the temple of Ranganathaswamy is an important Vaishnavaite center drawing pilgrims from all over India. A historical city, Srirangapatna was also the de facto capital of Mysore when Hyder Ali and Tipu Sultan were ruling over it. Apart from the main temple there are many other places of interest that are worth a visit – Dariya Daulat Palace (Summer Palace of Tipu Sultan), Gumbaz Burial Chamber (where Tippu Sultan, Hyder Ali are buried), Tipu's Death Place (the spot where Tippu Sultan died during the siege of Srirangapatnam).
4) Coonoor >  Dindigul (Tamil Nadu)
Dindigul is an ancient historical city that has been ruled by Pandyas, Medieval Cholas, Pallavas, Madurai Sultanates, Vijayanagara Rulers, Madurai Nayak Rulers, Chands Sahib and finally the British. Thanks to Dindigul's historical heritage there are many places of interest that are worth a visit – Silver Cascade Falls, Sirumalai Reserved Forest, Kamarajar Lake, Thadikombu Perumal Temple etc. A visit to Dindigul is not complete unless you check out the Fort. A legacy of the past, the Dindigul Fort is a 17th-century structure built by Madurai Nayak Kings.
5) Coonoor > Madurai (Tamil Nadu)
Madurai is one of Tamil Nadu's oldest cities; a great former trading metropolis, a temple town driven by an IT economy. Known famously as the 'Athens of the East', the city is known to have been associated with the Tamil language and the great Tamil Sangam, an important congregation of Tamil scholars. The city is said to have been ruled by the Greeks, Mauryas, Pandyas, Cholas, Vijayanagar Empire, Madurai Nayaks, Carnatic kingdom and the British. Places to see in the city include the Meenakshi Amman Temple, Thirumalai Nayak Palace, Gandhi Museum, Pazhamudir Solai, Ayiram Kaal Mandapam, and St. Mary's Cathedral Church, among others.
6) Coonoor > Kodaikanal (Tamil Nadu)
A popular destination in South India that never fails to provide relief from the relentless heat – Kodaikanal (also known as Kodai) is known as the Princess of Hill Stations. A spectacular mountain abode located 2000 meters above sea level, Kodaikanal has many pristine waterfalls, beautiful gardens, refreshing coffee, and tea estates and verdant green foliage that would beckon you every year. There are many places of interest to see in Kodaikanal and the most popular among them would be – Kodaikanal Lake, Berijam Laje, Pine Forest, Pilar Rocks, Guna Caves etc.
Sight Seeing Places 
A roadies' paradise, Coonoor offers some of the best tourist spots which can be reached within an hour by road. Get behind the wheel and explore nature at its best. Head to the Lamb's Rock, 8 km and Dolphin's Nose Viewpoint, a 12 km stretch of adrenaline thrill from Coonoor, the jaw-dropping gorges offer idyllic sunset, after a series of hairpin bends and breathe stopping narrow roads. Want to get off the road, try trekking to the Hidden Valley. Load on your cameras for some stunning clicks with enchanting views. St. Catherine Falls drops from a sheer 250 ft, gives the perfect relief to a tired body and mind after the trek and houses the Adderley Guest House.
A must see tourist spot in Coonoor is the Sim's Park, developed by J.D.Sims and Major Murray in the year 1874, welcomes visitors with a whopping 12 hectares of sheer lush greenery doubles up as a botanical garden. Housing over 1000 varieties plant species, the natural contours of the park has some breath-taking terraces of colorful flower beds. This unusual natural undulating spread of park also has the rare Rudraksh Bead tree. Trekkers and hikers can baste in the glory of favorable weather conditions among the vast tea plantations while roadies can drive down the panoramic paths to further destinations.
Accommodation
From luxurious resorts to humble homestays, Coonoor offers visitors with a wide range of options for lodging. Time your visit between March and June or September and October to experience the best of Coonoor.
Here are a few suggestions verified by us
Spread over 120 acres, the Plantation Estate at Kollacumby is a blissful haven for a relaxing holiday. The property combines the concept of an eco-friendly stay with luxurious living to make you feel pampered. It is built using naturally sourced materials and bordered by verdant landscapes of the Nilgiris Biosphere Reserve. The plantation on which the resort is located grows tea, coffee, and spices, such as pepper and cloves.
Accommodation at the Plantation Estate at Kollacumby includes three cottages: the Estate House, the Hornbill House, and the Pepper House. All the cottages have spacious rooms, exuding old world charm and offering wonderful views of the estate.
This Colonial House near SIM's Park is a heritage edifice with sprawling lawns and wonderful gardens and offers a stunning 180° views of this hilly town. A piece of historical pride, Colonial House near SIM's Park is synonymous with warm hospitality and makes its guests feel special. 
There are 6 rooms to choose from but the main attraction of this colonial bungalow is its outdoor experience. Sitting on the sprawling lawn dotted with wrought-iron tables and chairs not only provides a vintage feel but offers breathtaking views. The multicuisine restaurant pampers your taste buds.
This quaint bungalow is home to four well-equipped double rooms with en-suite bathrooms.
A well-kept garden and lawn provide a wonderful space to appreciate the serene atmosphere of the town in the evenings as well as a great view of the majestic Droog Fort. One can spend the evenings sitting by the bonfire on the lawns or simply relaxing on the verandah sipping a hot cuppa and reading a book.
Travel Tidbits
While the approach to Coimbatore takes one through the must tested and tried railways and roadways, a must-try unique travel option is the Nilgiri Mountain Railway. A marvel of engineering, the charming blue and cream train chugs along the 46 km stretch of tricky tracks on the mountainous terrain. Designed and built by the Swiss Locomotive Works, though the plan for the Nilgiri Toy Train was laid in 1854 it was only after 45 years in 1899 that the first engine blew out the steam. Twelve of these majestic Swiss locomotive engines survive to date. This joy ride is the crowning glory of the visit as it can change even the hardest train critic into an avid train lover.
Coonoor is one offbeat destination that has much to offer its visitors – salubrious weather, picturesque spots and a wonderful holiday. 
---
About SelfRoadiez
We find PLACES that are UNCROWDED, has a story to EXPLORE, gets your nerves to RELAX, let's you CONNECT to your roots and simply lets you have a FABULOUS DRIVE HOLIDAY with your loved ones around.
Wish to Book a Self-Drive Car Rental, Offbeat Holiday Stay, Unique Tour Experiences or get a curated vacation plan for your next holiday travel?  Visit the site or Call us to discuss!