Offbeat Holiday Drive To Devala - Tea Plantation Town In Tamil Nadu
This tour originates from Bangalore, Mysore, Coimbatore.
Package Description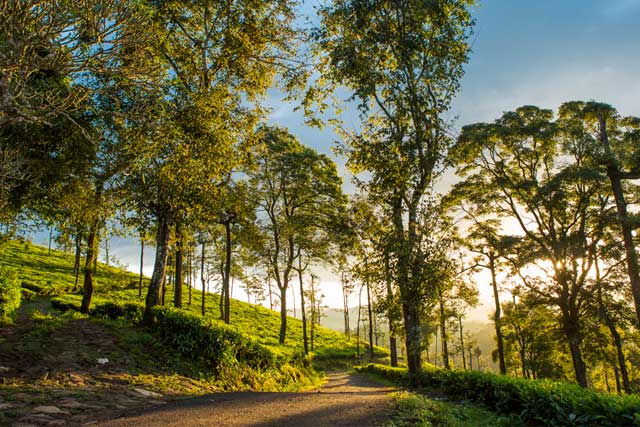 Experience offbeat holiday at Devala – a tea plantation and lush green locale in the South of India to capture memories of a peaceful & laid-back vacation.
Bangalore – Devala – Bangalore
Please check the Itinerary for detailed description of the Drive route.
---
Ideal Season for this Offbeat Holiday Plan
All or Any weekends are ideal with a perfect travel /drive partner
---
Holiday Packages
This Drive Route Holiday can be created with variations on "Number of Days" (3N/4N/5N). We will pack in more punch with more number of (holi)days. Send an inquiry and our Travel experts will customize your Drive Holiday itinerary.
---
Car Rental Options
You can choose your own car for the drive or pick up from our latest zippy models. We have multiple car pick-up points in most of the cities and airport drop or at the door drop option in certain cities at nominal charges. Call us to check on this info.
Car Rental includes:
A car of your choice (as per availability) and with unlimited KM of usage during the rental period. Please read the terms & conditions or car rental carefully.
To book this Circular Drive Holiday send an inquiry now
Tour Duration
2 Nights/3 Days
Available packages for Offbeat Holiday Drive To Devala - Tea Plantation Town In Tamil Nadu
This tour originates from Bangalore, Mysore, Coimbatore.
We are sorry, there are no rooms available at this accommodation at the moment
Itinerary
Day 1 - Bangalore to Devala
Take the exit from Bangalore city via Mysore road. Those driving from North and West Bangalore (Including those starting from International Airport) may use the NICE road to enter Mysore road.  Those who are traveling from Central Bangalore may enter via Corporation Circle and old Mysore road flyover to get on to the Mysore road. Those driving from East Bangalore may either use the Mysore road via Corporation circle or NICE road depending upon their place of stay.
The Bangalore- Mysore Highway is one of the busiest stretches. And there are a quite a few deviations which you can explore and which we can suggest before you continue your journey to Mysore on the Highway. If you are a Bangalore resident, we recommend you to stick to the Highway since you can take up the deviation routes anytime during your weekend drive to Mysore.  However, if you are not living in Bangalore and this drive is one of your infrequent visits to Southern India, please talk to us. We can plan a stopover at Mysore on this tour.
It takes only 6 hours to cover the 268 km drive to Devala if you take the NH275 route from Mysore, if you wish you can cover few attractions in Mysore and reach late for Dinner at Devala.
Check into our partner property, an Estate Bungalow at Devala.
Day 2 - At Devala
Devala - Pandalur are about 6 km in distance from each other. The beautiful tea plantation towns of Nilgiris district. You can explore the sightseeing places at Devala in a day. Make sure to visit the Mudumalai National Park which is just 27 km from Devala. Do read about the sanctuary if you are interested to know what to expect there.
Day 3 - Back to Bangalore
After a good hearty breakfast, head back to Bangalore. It will take you the same time (6hrs) to cover the route back to Bangalore. If you wish to make the best of this travel, talk to us & we can suggest a close-by deviation for a half day sightseeing. Though only if you are up to take up the whole day drive & perfectly alright to reach late back home.
Hot Tip:- Every Sunday afternoon, especially after a long weekend, Mysore - Bangalore Highway gets crowded. Although the traffic situation is beyond your control, this information is just for you to be aware and plan your return accordingly, especially for those out of town travelers who need to take a flight back to their hometowns on the same day.
Tour inclusions
Accommodation (Stay) during the course of the drive holiday.
Breakfast provided at accommodation properties
Lunch and Dinner on certain days/ certain properties and this shall be specifically mentioned in the individual itinerary shared via email by us.
Activities which are specifically mentioned as inclusions in the package.
Tour exclusions
Car rental charges as per the model chosen and days. Not applicable for those who are opting to use their own car.
Fuel and Toll charges.
Activity charges and other entry charges unless specifically mentioned in the inclusions.
Lunch and Dinner on certain days / certain properties unless mentioned as inclusions in individual itinerary.
Extra bed charges or accompanying children charges.
Any other expenses which are personal in nature.
Food or beverages consumed other than which is part of the package.
Terms & Conditions
Inclusions and exclusions may change on customization of the drive holiday package. Please check with us if you are particular about any point of inclusion/exclusion and we will do our best to accommodate your request.
Terms & Conditions as applicable on individual service provider for accommodation & car rental. Please read the terms and conditions to clear any doubts on the usage of our services.
Tour Accommodation mentioned is available based on availability on a first come first serve basis. Please confirm before booking.
Cancellation policy
Cancellation policy of individual service providers such as accommodation providers or car rental companies whose services  are included in the itinerary  shall be applicable for drive holiday cancellations and refund.
For more details please visit the terms and conditions  page & read the fine print under heading cancellations and refunds.
We are sorry, there are no reviews yet for this tour.