Jungle Lodges - Adventure & Nature Camping Around Bangalore
This tour originates from Bangalore, Mysore, Coimbatore.
Package Description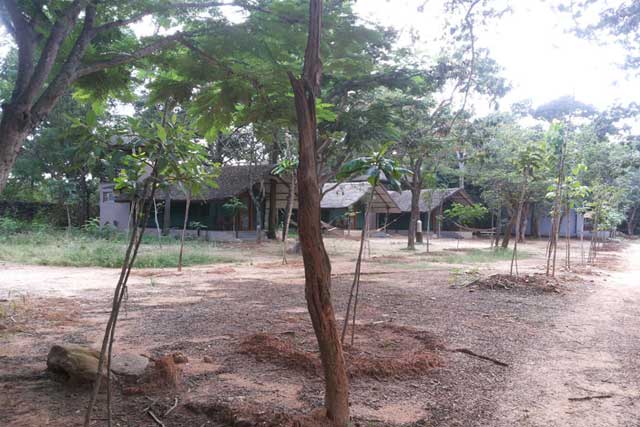 For the nature lovers, this adventurous tour will get you to experience the wildlife safari – take you up close to the most feared king of the Jungle. And those in need of adventure can experience the Nature camping and water sports activities at the Jungle Lodges Resorts.
Bannerghatta Nature Camp – Bheemeshwari Nature Camp.
Please check the Itinerary for a detailed description of the drive route.
---
Ideal season for the Nature Camping Tour 
Throughout the year, each season brings out its own charm. Summers are a bit warm, monsoon gets the environment all lush & green though the water-related activities are not operational during rainy season. Rainy season is the time to just relax and enjoy the beautiful view away from the humdrum of busy city life. Winters require warm clothing to be carried along.
---
Holiday Packages
This Drive Route Holiday can be created with variations on "Number of Days" (3N/4N/5N). We will pack in more punch with more number of holidays. Send an inquiry and our Travel experts will customize your Drive Holiday itinerary.
---
Car Rental options
You can choose your own car for the drive or pick up from our latest zippy models. We have multiple car pick-up points in most of the cities and airport drop or at the door drop option in certain cities at nominal charges. Call us to check on this info.
Car Rental includes:
A car of your choice (as per availability) and with unlimited KM of usage during the rental period. Please read the terms & conditions or car rental carefully.
To book this Circular Drive Holiday send an inquiry now
Tour Duration
2 Nights/3 Days
Image Credits
Image Courtesy - Freepik
Itinerary
Day 1 - Your location to Bannerghatta Nature Camp
Bannerghatta Nature Camp is located at the outskirts of Bangalore city. It's a carefully preserved and maintained camp. You will get to experience camping in Swiss style huge Tents. There is a Bus safari which takes you into the Jungle to give you a glimpse of wildlife up close. This facility is the biggest of it's kind and the Tiger & Lion safari's are quite popular with the visitors here.
Apart from the wildlife tour, the camp showcases Asia's biggest Butterfly Park, the Bannerghatta zoo where you get to see elephants, bears, deer, giraffes, porcupines, bonnet macaques and a vibrant mix of bird species.
A campfire can be organized to complete your camping experience.
Day 2 - Bannerghatta to Bheemeshwari Nature Camp
After breakfast head towards Bheemeshwari Nature Camp. On the banks of Cauvery River, this Nature camp promises to fulfill all your adventure camping needs. A range of adventurous activities like zip line, rope walking, kayaking, rafting, coracle ride, trekking are all well managed & supervised.
Located at a distance of 2 hours from the Bangalore city, this camp can be taken up on a weekend for 2 nights as well. We have given you an option to club it with the Bannerghatta Wildlife Camp to serve you a complete package of wilderness & nature retreat.
Day 3 - Bheemeshwari Nature Camp to Your Location
On the last day you can choose to leave after lunch as the journey to your location in Bangalore will not take more than 3 hours minus the traffic time.
Tour inclusions
Accommodation (Stay) during the course of the drive holiday.
Breakfast provided at accommodation properties
Lunch and Dinner on certain days/ certain properties and this shall be specifically mentioned in the individual itinerary shared via email by us.
Activities which are specifically mentioned as inclusions in the package.
Tour exclusions
Car rental charges as per the model chosen and days. Not applicable for those who are opting to use their own car.
Fuel and Toll charges.
Activity charges and other entry charges unless specifically mentioned in the inclusions.
Lunch and Dinner on certain days / certain properties unless mentioned as inclusions in individual itinerary.
Extra bed charges or accompanying children charges.
Any other expenses which are personal in nature.
Food or beverages consumed other than which is part of the package.
Terms & Conditions
Inclusions and exclusions may change on customization of the drive holiday package. Please check with us if you are particular about any point of inclusion/exclusion and we will do our best to accommodate your request.
Terms & Conditions as applicable on individual service provider for accommodation & car rental. Please read the terms and conditions to clear any doubts on the usage of our services.
Tour Accommodation mentioned is available based on availability on a first come first serve basis. Please confirm before booking.
Cancellation policy
Cancellation policy of individual service providers such as accommodation providers or car rental companies whose services  are included in the itinerary  shall be applicable for drive holiday cancellations and refund.
For more details please visit the terms and conditions  page & read the fine print under heading cancellations and refunds.
Accomodation

01

Accomodation

02
We are sorry, there are no reviews yet for this tour.
Image Credits
Image Courtesy - Freepik