For some, travel is not merely visiting places it is also about immersing oneself in the culture, tradition, and heritage… in other words, they love to sample the local delicacies and find 'nirvana'. You might find it surprising that for many, just the thought of a particular place conjures the smell and taste of mouth-watering delicacies. For example, the 'City of Joy' will always be associated with Rosagollas just as Chennai is associated with Dosas and Sambar.
There is a lot of stereotyping when it comes to food associated with certain regions due to which we sometimes fail to sample some of the best delicacies that a particular city or region has to offer. So we got down to research and explore this in detail and to find a list of famous Indian foods associated with the regions of India.
Delicacies from North India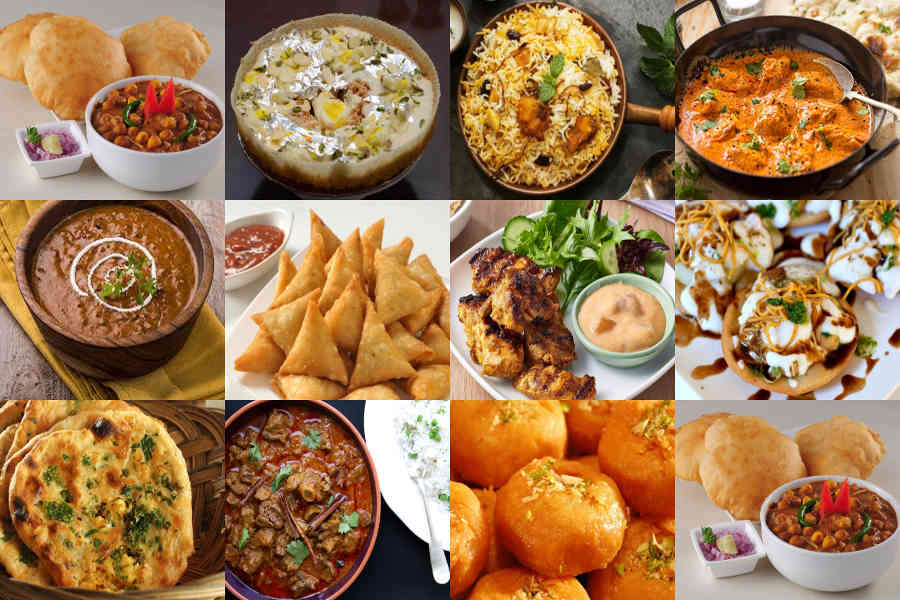 There are many other mouth-watering treats that one needs (must) to sample while in the region. Let's dig into it without any further ado.
Awadhi Biryani:
If you thought that Biryanis of India are all one and the same, then you can't more wrong there. Each region adds its own taste and flavor to Biryani and that's why it is important if not imperative to taste what each region has to offer in terms of this particular dish. One might classify it as a 'cuisine' by itself. Awadhi Biryani is a feast that ought not to be missed especially when you are in Lucknow (Uttar Pradesh). The heady sense of spices and condiments when combined with the delicate aroma of fresh cooked long grained basmati rice makes this a delicacy that you dare not miss.
Chola Bhature:
Someone had dubbed chola bhatura as the 'king of street food' and they were right. Nothing can really taste as good as a piping hot Bhature when had with spicy chickpeas on a cold winter morning. You would be wise not to miss this treat!
Butter Chicken:
A delightful dish and one of the most famous Indian foods abroad, butter chicken satisfies all your senses with tender chicken cooked in butter and the heady aroma of spices bringing you to heels with fresh cream swirling on tasty gravy. None would be surprised if you decide to take off to Delhi just to savor this delicacy.
Dham:
A traditional dish prepared at Himachal Pradesh, made from rajma beans, green lentils, rice, and curd. The awesome spicy taste of this dish makes this a delicacy that you should not miss.
Amritsari Fish:
Succulent, spicy and delectable, this is one delicacy that you can't say 'no' to. Served with green chutney, the fish is batter fried outside and juicy on the inside. The spicy taste of the delicious fish is something that you wouldn't forget in a hurry.
Daal Bati:
One can't really talk about delicacies of the north and not include this mouth-watering Rajasthani treat in it. Daal Bati is a whole wheat bread roll that is eaten along with a soup (gravy) cooked with lentils and spices. A scrumptious meal that represents the very essence of the Rajasthan desert!
While you are in the region you should also dig into the following delicacies – Litti Chokha, Baigan Bharta, Kashmiri Dum Aloo, Chicken Tikka Masala, Parathas, Rajma Chawal, Papad Ki Sabji, Saso Ki Saag with Makki ki Roti, Rogan Josh (a Kashmiri delicacy), Rabri etc. While each of these dishes certainly deserves a eulogy of their own, we hope that you get a taste of it (at least once) while you are in the north.
Delicacies 
from South India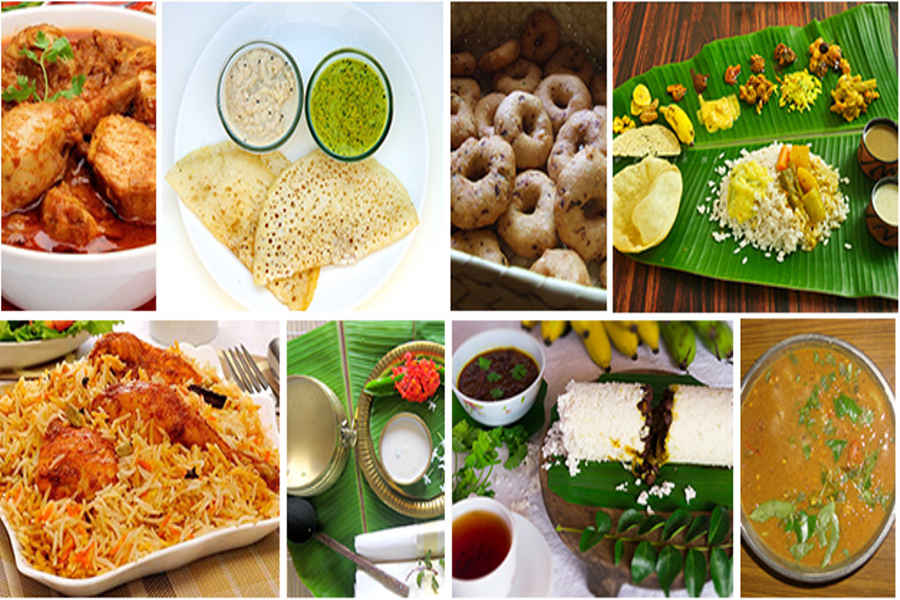 If you think that dosas are the only delicacies that south can claim, then you really need to book yourself an extended holiday stay out there.
Dosas:
Ok. There is no getting away from it. South India is known for this delicacy and nowhere else do they really get it right. Crispy wafer thin ghee roast or the delicious masala dosa and the hundred variations of uthappam stuffed with onion, tomato, and other veggies. Nothing is more sublime than a hot crispy dosa eaten along with a tangy tasty sambar, coconut chutney and podi (an explosive gunpowder that is absolutely addictive).
Idly, Vada & Sambar:
Amongst the most popular and famous Indian foods, that is available in almost every part of India and in few countries abroad, it is nothing less than a sacrilege if you leave South India without sampling idlis. The rice cake is the true soul food of the South and you will not find a more healthy breakfast anywhere. Along with the idly, the vada is yet another delicacy that would completely satisfy your senses. Crisp lentil vada dipped in sambar and chutney might just be the point when you fall in love with this region.
Chettinad Chicken:
Spicy, aromatic and hot, this chicken preparation is a local delicacy and you don't get it this delicious anywhere else in the world.
Gongura:
If you are traveling through Andhra Pradesh then you can't miss out on the Gongura (which is an edible plant) pachadi (preparation with curds). It is a crime that totally deserves punishment!
Pesarattu:
Also known as green dosa, Pesarattu is a delicious staple morning breakfast hereabouts that is also very healthy.
Hyderabadi Biryani:
A royal delicacy once upon a time savored by Nizams. The best part of this cuisine is that you would feel royal too when you dig into this spicy treat. An awesome dish that is worth the travel!
Puttu Kadala:
You haven't been to Kerala unless you have sampled this for breakfast. Puttu is a cylindrical steamed rice cake that is cooked with coconut and it is eaten along with kadala curry (black chickpeas) and relished with a ripe banana.
Appam & Stew:
Amongst the famous Indian foods in the country, Appam & stew is yet another sublimely spicy food that will seduce your senses. A rice pancake that is paper thin served along with a coconut gravy of vegetables/chicken or meat.
Kerala Prawn Curry:
You can't really visit the backwaters of South Kerala and not sample the coastal cuisine of fish. Prepared with simple spices and dipped in coconut and jaggery, the prawn curry here is a revelation for discerned tastes.
Bisibele Bhath:
The cuisine of Karnataka is known as sathvik, in other words, they are mildly spiced and yummy to taste. Bisibele Bhath is a bowl of cooked sambar rice with lentils and masala blended to perfection. Have this along with appalam or vadam and make sure it is piping hot. You might just attain nirvana at the end of the meal.
That apart, here are a few other famous Indian foods from Karnataka you do need to sample while in South.
Karnataka must haves – Neer Dosa, Kundapura Koli Saru, Mysore Masala Dosa, Coorg Pandi Curry, Kane Rave Fry, Haal Bai etc.
Kerala Must Haves – Idiyappam with egg curry, Spicy chicken fry, Mussel stir-fry, Erissery (Stir fry), Naadan Beef fry, Malabar Fish Curry, Kerala Fish Molee etc.
Tamil Nadu Must Haves – Tamarind rice, Filter coffee, Ambur Biryani, Chicken 65, Bagalabath, Lemon Rice etc.
Andhra Must haves – Usili, Bachali Kura, Pachi Pulusu, Andhra Style Chicken Curry, Gutti Vankaya Kura, Crispy Andhra Bhindi etc.
Delicacies from East India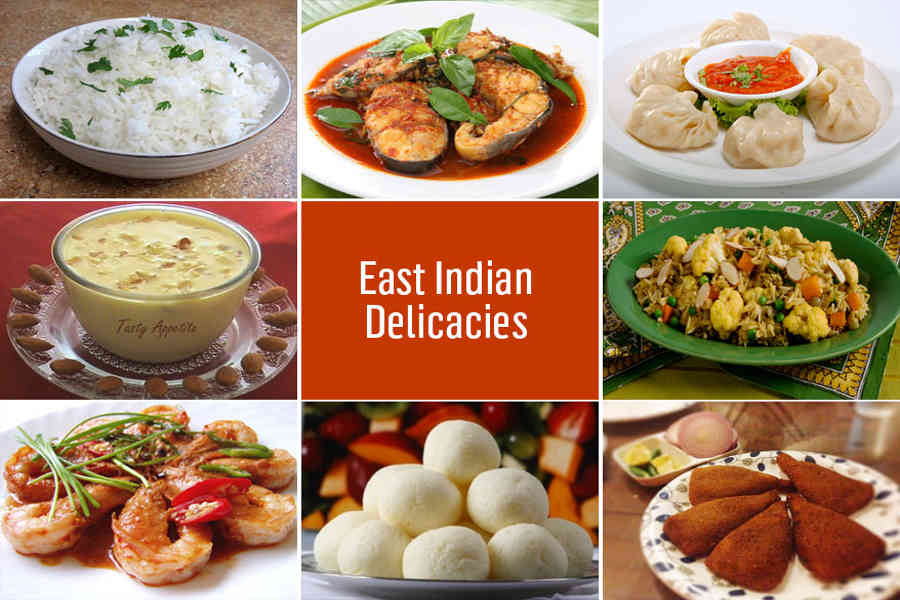 Eastern India is a heady confluence of colour, spice and culture. One can say that Bengali delicacies rule the roost here. So let's start with 'you know what' –
Rosagollas:
Yes… can't get away from these ball-shaped dumplings made of chhena and semolina dough, cooked in light syrup made of sugar. This is done until the syrup permeates the dumplings and we cannot have enough of them. They are the best and nowhere else do they taste the yummiest than having them locally.
Jhal Muri:
Spicy and tasty that apparently caught the fancy of the British, this is a light snack made of puffed rice, lemon, and veggies such as onion, tomato, and cucumber. This is street food that would have you craving for more.
Baingan Bhaja:
A fried eggplant snack without which no Bengali meal is complete. Don't take our word for it. Go on sample it!
Chingri Macher Malaikari:
What's a Bengali cuisine without fish! And you haven't tasted prawn at its best unless you have sampled this.
If you are traversing through Bihar or Jharkhand then you need to dig into these –
Bihari Litti:
A traditional dish that is eaten along with yogurt or papad or baingan bharta, litti is utterly rustic and not to mention mouth-watering.
Pittha:
Yet another delicacy that is distinctly local with added flavors of the region, you will get this dish in Orissa too. Pittha is a steamed dish prepared from wheat flour, suji, rice and stuffed with vegetables and lentils.
Rugra
Rugra made from the Jharkhand mushroom is a delicious delicacy that is also considered to be a very healthy dish.
While you are in the region, do sample the following delicacies too – Khar, Smoked Pork, Tenga Fish, Eromba, Thekera, Jadoh, Zan, Bai (Mizoram dish). Thupka, Iromba (Manipur), Awan Bangwi (Tripura), Misa Mach Poora (Meghalaya), Bamboo Shoot Fry (Meghalaya), Gyathuk (Sikkim) etc.
Delicacies from West India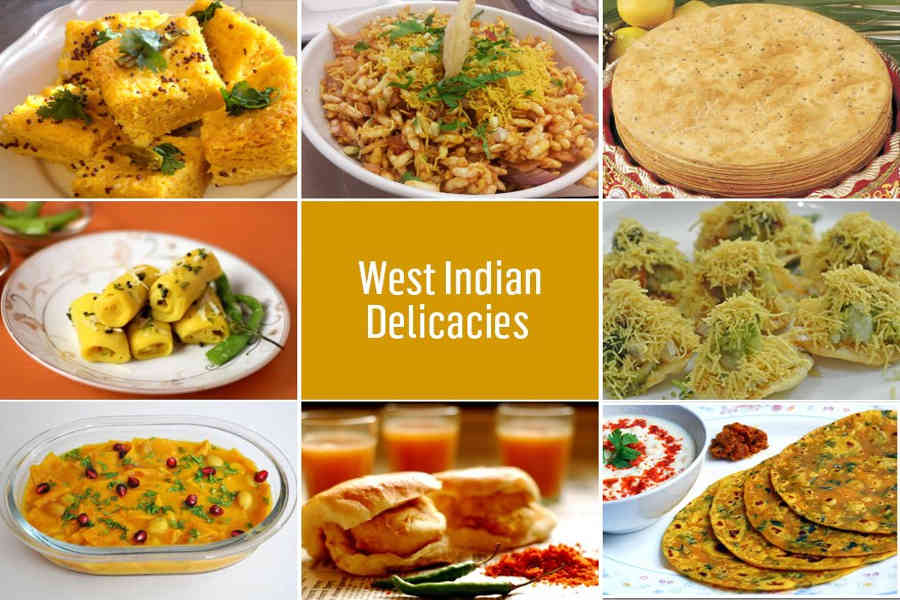 Plan your travel in the west and Goa rules the roost in terms of cuisine. The street food of Maharashtra does try to upstage it though let's begin our food exploration from Goa –
Kulkul:
A sweet Goan dish made from coconut cream and plain flour is a Christmas delicacy hereabouts.
Ros Omelet:
A Goan street food with the omelet dipped in spicy gravy that literally tastes like heaven. If you haven't tasted this, then you haven't lived enough.
Undhiyo:
A popular casserole vegetarian dish made from seasonal veggies and relished with roti or parathas. You can't miss this if you are in Gujarat.
Mohanthaal:
A sweet delicacy made from ghee and stuffed with dry fruits, khoya, and milk. Made specifically for an auspicious occasion, you ought to sample this at least once in your lifetime.
Vada Pav:
You cannot escape this delicacy especially when you are in Mumbai. A street food par excellence, this spicy potato dumpling sandwiched in a bun is art on a plate.
Sabudana Vada:
A perfect snack made from sago to fix the monsoon blues. Spicy and delicious, one can't get enough of this.
Misal Pav:
Maharashtrians swear by this delicacy; be it brunch, lunch or dinner. A spicy feast for the senses no less!
We could go on and on but here is a list of dishes that we do insist that you try out –
Mussel Rawa Fry, Prawn Balchao, Sannas, Chicken Xacuti, Chicken Cafreal, Shark Ambot Tik, Caldeirada, Pork Vindaloo, Assado de Leitao, Puran Poli, Pithale, Pandhara Rassa, Tambada Rassa, Sabudhana Kichidi, Dal Dhokli, Khaman Dhokla etc.
Food is integral to one's culture and tradition and one can't really enjoy the sights and scenes of travel without sampling the delights of the local cuisine. So… we wish you Bon Appetite. 
---
About SelfRoadiez
SelfRoadiez Travel Solutions Pvt Ltd through our online travel portal www.selfroadiez.com provides integrated self-drive holidays to offbeat destinations within India. We provide exclusive self-drive car rentals to travelers with a choice of multi-city car pick up points in India. We also offer drive holiday packages including accommodation, route planning, and experiential activities under custom travel plans. Thinking of a self-drive holiday? Call us to find out how we can help.