For those who love to take an offbeat holiday to historical cities, will find Dindigul an alluring prospect to explore. 
History
Dindigul (or Dindugal) is an old South Indian City and District headquarters located 420 km Southwest of the Chennai, the capital city of Tamil Nadu.
Dindigul region is located in the foothills of Sirumalai hills and was the border of the three kingdoms of South India, the Pandyas, Cheras, and Cholas. The word Dindigul is derived from the Tamil words 'dind' and 'kal' meaning 'pillow – rock' referring to the huge rock situated near the city. This ancient settlement was ruled by several kingdoms over the centuries and thus houses many historical monuments, the Rock Fort being the most prominent of all. Known for its popular cuisine, Dindigul is lovingly called as 'Biryani City' by many.
The city has been in existence from ancient times and this is evident from the reference to it in several ancient Tamil scripts like Silapathigaram, Dhevaram and in the works of other scholars like Strabo and Palupatai Sokkanathar. This region has been under the rule of several dynasties and has seen the rise and fall of kingdoms like Chola, Cheras, Pandyas, Vijaya Nagara, Delhi Sultanates, Nayaks and finally the British.
Weather
This place offers moderate climate making it a great place to visit any time of the year. The summer season is from March to July with a maximum temperature of 37 degrees, while the winter months are December and January.  Located at the foot of Sirumalai and Kodaikanal hills, Dindigul topographically has both plain and hilly areas and receives heavy rainfall during the months of October, November, and December.
Transport
Airport Hubs Close-by
The nearest airport is Madurai Airport, which is 84 km away.
Train Stations Close-by
Almost all the South-bound trains passing through stops at Dindigul railway station. The next closest railway station is at Madurai.   
This town is easy to access through road, thanks to the well-developed National and State highways that connect Dindigul to most of the major cities around.
Road Trips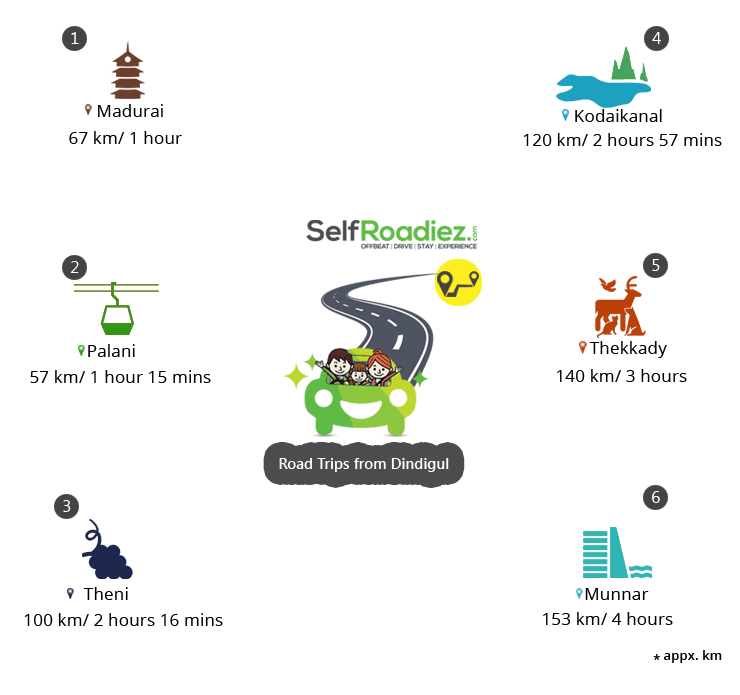 1) Dindigul > Madurai
Appx Driving Dist: 67 Km / 1 hour
This beautiful ancient temple city is known for its rich Tamil heritage and culture. Located on the banks of river Vaigai, the city is built with concentric quadrangular streets with the Meenakshi Amman Temple at its center.  With several historical monuments, it is the best place to visit and know the real culture and heritage of Tamil Nadu.
2) Dindigul > Palani
Appx Driving Dist:  57 km / 1 hour
A scenic stretch of hills, the Palani hills is an extension of the Western Ghats and houses one of the shrines of Lord Murugan, Palani Andavar Temple. Most of the festivals celebrated in Dindigul are associated with the celebrations at the Palani Murugan Temple.  Agni Nakshatram, Kandhar Shasti, Karthigai, Thai Poosam, and Panguni Uthiram are the major festivals celebrated at the Palani temple and it is attended by thousands of pilgrims not only from Tamil Nadu and other neighboring states like Andhra, Kerala, and Karnataka but also from other countries like Malaysia and Singapore.
3) Dindigul > Theni
Appx Driving Dist: 100 km / 2 hours 16 minutes
Theni is a picturesque town situated in the foothills of the Western Ghats on the Tamil Nadu and Kerala border. Surrounded by lush hills, rivers, and lakes, Theni is known for its pleasant climate. Suruli waterfalls, Meghamalai hills, Kumbhakarai falls, Kurangani falls and tiger falls are must-visit blissful places.
4) Dindigul > Kodaikanal
Appx Driving Dist: 120 km / 2 hours 57 minutes
This popular hill station is the best place to get away from summer heat. Adorned with beautiful parks, lakes, pine forests and waterfalls, Kodaikanal is a great outing place to spend a day.
5) Dindigul > Thekkady (Kerala)
Appx Driving Dist: 140 km / 3 hours
Situated at the distance of 140 km from Dindugal, this natural wildlife reserves is a must-see for all those nature lovers. The artificial lake adds to the charm of the spectacular scenic beauty of this Periyar National park. A trip to this wonderful destination will never be complete without a boat ride in the beautiful lake.
6) Dindigul > Munnar 
(Kerala)
Appx Driving Dist: 153 km / 4 hours
This picturesque hill town in the Western Ghats mountain range in Kerala is breath-taking with beautiful tea plantations and exquisite flora and fauna. The Mattupetty dam, Tea factory, Attukal waterfalls, Eravikulam national park are some of the places that are not to be missed.
Sight Seeing Places 
Dindigul is surrounded by many popular tourist destinations and it's easy to commute to these locations when one stays at Dindugal. Be it a spiritual journey, adventurous one or a leisure trip, Dindigul is situated at such a location that offers everything one asks for. The most prominent place is the Rock Fort or Dindigul Malai Kottai which is a 17th-century fort built by Madurai Nayak in 1605. Built with double walls, this fort houses cannon and gunfire artillery vantage points, ammunition storage rooms, cells for prisoners and standard escape routes making it a fully protected fort against external attacks. A must-visit place, this fort speaks of the sheer ingenuity of Indian military architecture skills. 
Accommodation
Dindigul has several good places to stay to match your budget.
Here is our suggestion
A beautiful Heritage Palace on top of Palani Hills gives you a grandeur stay experience. Dotted with lush forest, coffee plantations, Palani hills and serving regional cuisine with Mediterranean flavors, this grand estate ensures that guests keep coming back on holidays every year.
Travel Tidbits
Dindigul is known for its unique and distinct Biryani and there are several renowned restaurants that offer authentic Dindigul Biryani. We recommend Dindugal Thalappakatti Restaurant and Venu Biryani. There are other restaurants that offer pure vegetarian food and Sree Balaji Bhavan, Ananda Bhavan, and Shree Saravana Bhavan are top on the list.
For those travelers wanting to get a taste of the quintessential temple towns of South India, Dindigul is one of the best places to start with.
---
About SelfRoadiez
We find PLACES that are UNCROWDED, has a story to EXPLORE, gets your nerves to RELAX, let's you CONNECT to your roots and simply lets you have a FABULOUS DRIVE HOLIDAY with your loved ones around.
Wish to Book a Self-Drive Car Rental, Offbeat Holiday Stay, Unique Tour Experiences or get a curated vacation plan for your next holiday travel?  Visit the site or Call us to discuss!