Also known as Malabar's Ooty, Kakkayam is a picturesque dam site situated in Kozhikode (Calicut) and nestled on the outskirts of the Western Ghats. 
History
Kakkayam was deeply affected by the political turmoil which took place during the Emergency and has witnessed and played an important role in Indian history. That being said, Kakkayam is still a relatively unknown destination and hence has remained clean & fresh.
Built a few decades ago on the Kakkayam Valley, Kariyathan Para, well-planned strategy was brought into practice to implement the Kakkayam Dam project into a successful one. It is an integral part of the Kuttiyadi Hydro Electric Project whose sole purpose was to make this region a completely resourceful one in terms of generation and supply of hydroelectricity.
It is being advocated as an Eco-tourism haven. Kakkayam dam situated in the Kakkayam valley offers the tourists not only a reservoir and its beauty but also a chance to enjoy the outdoors in all its glory. Teeming with exotic wildlife, this picnic spot offers excellent trekking and rock climbing opportunities. This biodiversity zone of Kakkayam is selected as one of the best biozones by the International Union for Conservation of Nature (IUCN).
Weather
The climate is good all around the year, and if you particularly want to enjoy the Kerala rains, then monsoon season is the time to be there. But the best times to travel for a visit to Kakkayam dam is during the months of November to April. Expect a little humidity as it's close to the Arabian Sea.
Transport
Vehicles are only allowed till the check post of the dam, which is ten minutes away from the dam. If you are self-driving to Kakkayam, you can start from any of the following destinations mentioned below:
Airports Closeby
The closest airport to Kakkayam is the Calicut (Kozhikode) International Airport at a distance of 87 km
Train Stations 
The closest station to Kakkayam is the Calicut (Kozhikode) Railway Station at a distance of 50 km
Road Trips: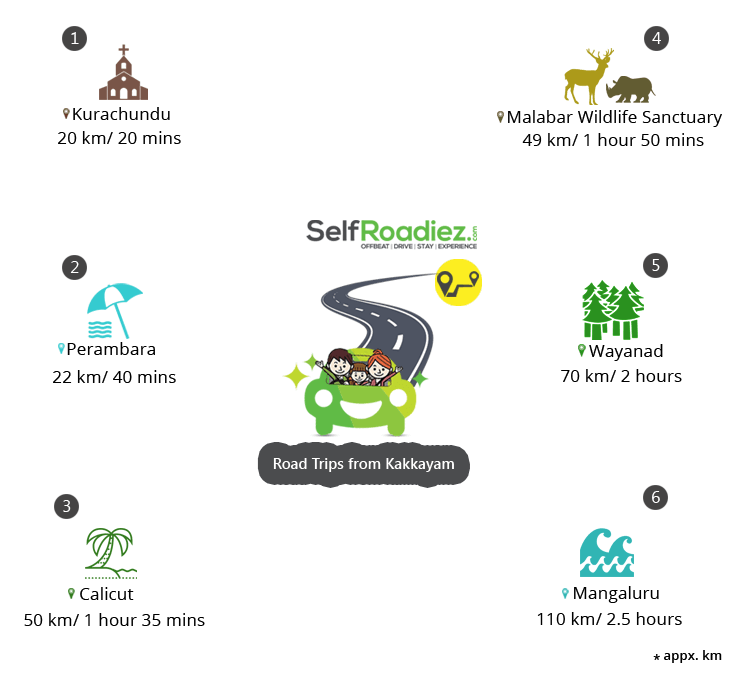 1) Kakkayam > Kurachundu
 Appx Driving Dist: 20 Km / 20 Minutes
Koorachundu is a village towards the north east of Kozhikode district. Award-winning coconut groves and spice gardens add beauty to the idyllic surrounding. Koorachundu town, with about a couple hundred shops, is the commercial center in the region: local handicraft items and high-quality spices are the trademarks of the town.
2) Kakkayam > Perambara
 Appx Driving Dist: 22 Km / 40 Minutes
Perambra is a town in Koyilandy taluk of Kozhikode district.
3) Kakkayam > Calicut
 Appx Driving Dist: 50 Km / 1 Hour 35 Minutes
Kozhikode, a.k.a. Calicut, is a former Portuguese Colony, a trading town as well as the capital of the great Zamorins of the South. Places to see in Kozhikode include the Kadalundi bird sanctuary, planetarium, Kalipoyika lake, Pazhassiraja Museum, Lion's Park, the Ancient Tali temple, King Vikarama's palace tank, and the many scenic beaches.
4) Kakkayam > Malabar Wildlife Sanctuary
 Appx Driving Dist: 55 Km / 1 Hour 50 Minutes
The sanctuary is part of the western ghats, a biodiversity hotspot. It also comes under the Nilgiri Biosphere Reserve and forms a part of the Wayanad Elephant Reserve
5) Kakkayam > Wayanad
 Appx Driving Dist: 70 Km / 2 Hours 
A popular holiday spot, Wayanad is the favorite destination for honeymooning couples. Located in the north-east of Kerala, Wayanad offers pleasant misty mountains, cool fresh air, verdant greenery and enchanting plantations for one and all. There are many places to trek around in Wayanad and many viewpoints to drink in the beauty of nature. Chembra Park, Thirunelli Temple, Banasura Sagar Dam, Lakkidi View Point, Soochipara Falls, Edakkal Caves, Banasura Hills, Meenmutty Falls, and Wayanad Wildlife Sanctuary.
6) Kakkayam > Mangaluru (Karnataka)
 Appx Driving Dist: 110 Km / 2 Hours  30 Minutes
A city camouflaging Mother Nature in its many folds, Mangalore is one of the cleanest cities in India. Considered the best place for business ventures, Mangalore landscape is blessed with fresh water streams gurgling down the lush green hills, coconut palms lining the green covers and hard red-clay-tiled-roof buildings.
Sight Seeing Places 
Kakkayam dam reservoir offers an ideal tourist spot for people who are enchanted by rural India away from the hustle bustle of the city with idyllic surroundings. Hairpin bends on the way will keep you edged to the seat, but oh what breathtaking view. Each one is more spectacular than the other. You need permission from the forest office to visit the dam and a nominal entry fee is applicable too. The entire site is a paradise for nature lovers. A few places to watch out for are:
The other close by attractions to Kakkayam are- Kappad Beach, Iringal Arts and Crafts village, Sarovaram, Beypore Port, Janakikadu and Vadakara.
Accommodation
Accommodation options are limited so make an advance reservation if you plan a stay over at Kakkayam. There are a few places to choose from near Kakkayam.
Our recommendation 
It is 20 minutes south of Kakkayam and is a beautifully managed home-stay. It is located right amidst the green hills, valleys, and lake giving it a picture-perfect backdrop. 
Variety is the spice of life at this Homestay with waterfalls, beaches, mountains, and dams to visit and adventurous activities such as rock climbing, trekking, bamboo rafting, coracle riding etc. to undertake. 
Travel Tidbits
The cuisine found here is predominantly Kerala/ Malabar style of food. The nearest fuel station is at Koorachund, around 5 km away from Kakkayam. Please fuel up at the stations near Calicut city if en route to Kakkayam since there are no petrol pumps on the way to Kakkayam within 50 km of distance.
---
About SelfRoadiez
We find PLACES that are UNCROWDED, has a story to EXPLORE, gets your nerves to RELAX, let's you CONNECT to your roots and simply lets you have a FABULOUS DRIVE HOLIDAY with your loved ones around.
Wish to Book a Self-Drive Car Rental, Offbeat Holiday Stay, Unique Tour Experiences or get a curated vacation plan for your next holiday travel?  Visit the site or Call us to discuss!