Beautiful, remote and yet teeming with life, Andaman and Nicobar Islands is a great destination to let down your hair and relax. Andaman and Nicobar today is a relaxing beach destination alluring tourists with its beautiful islands and moonlit sea. This group of 600 islands pieced together in the Bay of Bengal is very also situated very close to Myanmar and Thailand.
History
There is a lot of history in Andaman and Nicobar Islands. For starters, these islands are home to Sentinelese people who are the only known Paleolithic people in this world!
The earliest document evidence about Andaman and Nicobar Island date back to 2200 years ago. The Chola Kings, Rajendra I (1014 Ad to 1042 AD) had used the islands as a naval base to attack the Srivijaya Empire (Present day Indonesia). During the 17th century, the Marathas too established a naval base here and the Maratha Admiral Kanhoji Angre was responsible for attaching these islands to the Indian hegemony. Danish settlers built a colony in the Nicobar Islands in the 18th century but eventually abandoned it after Malaria broke out.
In 1858, the British established a Penal colony and a cellular jail here, which was infamous as 'Kala Pani' during that period. Known for the harsh punishments that were meted out to the inmates, 'Kala Pani' jail became the perfect isolated colony to break the will of many Indian Freedom fighters and hold them in seclusion away from the public.
Many prominent political prisoners and popular freedom fighters were interned in the Cellular Jail. Some of the notable ones were Batukeshwar Dutt, Veer Sarvakar along the 80,000 others who were interned here over a period of time! Today, the Cellular Jail has become a National Memorial Monument.
Weather
The weather in these islands is tropical with some minor fluctuations. The best time to visit would be between the months October and May. The average temperature in the Islands would be 23 degrees to 30 degrees and it enjoys 80% humidity all through the year.
Transport
Airports Closeby
Andaman has an International airport operating from Port Blair named – Veer Sarvakar International Airport.
Ferry Services
Ferry services are available from Port Blair to Havelock, Neil Island, Digilpur etc. Government run ferry services are available at the Port Blair to take passengers to different islands in Andaman and Nicobar. There are many privately run jetty and wharfs at Port Blair that take passengers to various Islands in varying degrees of luxury class seats. These ferry services can be booked online as well.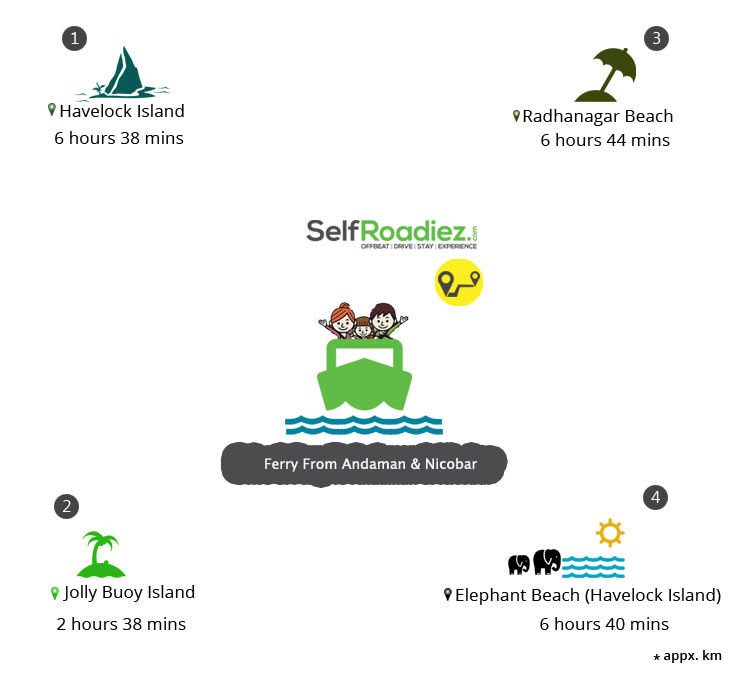 1) Havelock Island
One of the most populated islands in Andaman & Nicobar, Havelock is a picture perfect for a holiday. Azure blue sea, coral reefs, beautiful white sands… what more can one ask for a beach holiday indeed! Located 39 Km from Port Blair, Havelock Island has a thick canopy of rainforest that keeps the place cool and inviting.
Named after Sir Henry Havelock, a British General who served in India, Havelock Island might just be anybody's vision of Paradise. There are many lovely resorts and picturesque beaches to make beautiful memories over here.
Havelock is also one of the topmost beach destinations in the Asia and not to mention a very popular spot for those who had always dreamed of a beach wedding.
Apart from serving as a great destination for a wedding, Havelock Island is a haven for adventure lovers. Snorkelling, Scuba Diving, Swimming or just plain sailing on glass-bottomed boats makes this memorable enough. One can watch the wonder of coral reefs and learn about the different species of fish that make their home there. If you love seafood that then this might be the best culinary holiday that you would take. One might get spoiled for life with Fresh coconut water and succulent seafood at every meal here!
2) Jolly Buoy Island
Famous for its pristine clear beach and underwater corals, Jolly Buoy Island can be reached from Wandoor Beach (which is located 30 Km from Port Blair). Jolly Buoy Island is a remote island in the truest sense, as it is uninhabited and has no shops to buy food or water. A perfect destination to enjoy water adventure sports such as snorkeling, deep sea diving, and swimming. A no man's land, Jolly Buoy Island is a wondrous place where time stands still and those who wish to know what it feels like to be at the end of the world should come here. Ships at Wandoor Beach take the visitors to this Island for a day's visit and ferries them back after a few hours. Jolly Buoy Island is a no plastic zone, therefore all those who visit have to pay a deposit if they are taking any plastic item along with them. The underwater coral reefs at Jolly Buoy makes this a special place to visit in India.
3) Radhanagar Beach
Now, who wouldn't want to visit 'Asia best beach' or the '7th best beach in the world'? Serene and calm the beach is bordered by lush palm trees making it picture perfect for a postcard shot. The azure blue of the sea and the calm breeze that serenades the waves make this beach a lovely spot to unfurl, unwind and hone the art of doing nothing!
Though this is the most popular beach in Andaman, it isn't terribly crowded which is probably why it is the best beach in Asia. Swimming in these beaches is also a delightful experience that you would love to sink in every day!
4) Elephant Beach (Havelock Island)
Situated 20 minutes by boat from Havelock Island, Elephant Beach offers the best that one can experience in Andaman. The expansive crystal blue sea, the pristine white sand presents an enticement that is unlike any other beach in the world.
Elephant beach also presents some of the best diving spots in Andaman where one can explore the mysterious world that unveils beneath the sea. This secluded beach is an enchanting place offering the best coral reef to spot and wonder upon. Sea walking, snorkeling or just swimming, a visit to the Elephant Beach would be memorable at all times.
Sight Seeing Places
There is much and more to keep one's self-occupied in Andaman & Nicobar Islands.
Andaman & Nicobar Islands might be at the tip of Indian subcontinent but there are many fascinating places to visit here. The Cellular Jail is a must-visit when one is in Andaman. A monument in history today, much blood has been shed here by our freedom fighters even as they struggled to rise against the British.
The serenity of the beaches in these islands will beckon you to spend all summers of your life here!
Kala Pathar Beach in Havelock Island is yet another enchanting spot to relax and marvel at the beautiful coral reef. Chidiya Tapu (25 Km from Port Blair) is yet another beautiful spot to hang around if you wish to see the most memorable sunset of your life. The other beaches that are worth a visit to these islands are – Bharatpur Beach, Laxmanpur Beach, Wadoor Beach etc. The Samudrika Museum in Port Blair is yet another interesting place to visit, presenting a perfect blend of present and the past.
A trip to Andaman would be incomplete without a visit to Ross Island. An erstwhile capital of Andaman Islands from 1858 to 1941, (until a devastating earthquake), Ross Island was the headquarters of the British Administrator of the Penal Colony in Port Blair. In 1941, the Japanese had converted the island into a POW (Prisoner of War) colony and built many army installments, which can be seen even today. One can actually walk through many scenes of colonial glory though it is dilapidated and overgrown now. The old Presbyterian Church that was built from stone and Burma Teak and decorated with Italian stained glass still survives today after weathering the vagaries of storm and sea for over 100 years! The Bakery at Ross Island is quite popular offering mouth-watering confectionaries, pastries, cakes, and croissants. Signing up for a guided tour through the island would be a great idea, as it would allow you to see how things were a hundred years ago.
Accommodation
Andaman & Nicobar might be islands at the far end of our country but they do offer endless options for accommodation from star resort hotels to budget homestays to suit all types of vacation budgets and tastes. If you love all things luxury then you can book yourself in a room with stunning view of the beach and enjoy the vacation of a lifetime. That apart, there are many mid-range hotels and resorts too, where you can enjoy a fabulous holiday at a budgeted rate.
Here are a few suggestions verified by us
The Luxury Beach Resort In Neil Island lends a touch of extravagance to the tranquillity of the island, which promises to make your holiday a memorable experience. A paradise on its own, the resort has everything to pamper your senses and your soul.
The Luxury Beach Resort In Neil Island offers lavish accommodation in one of its 62 well-appointed rooms. The rooms fall under five categories namely Casa Earth, Casa Air, Casa Aqua, Neil Ocean Suite, and Beach Mansion. Every room under each of these categories is luxuriously furnished and features all the modern amenities you will need for a comfortable stay.
The structures at this Romantic Beach Resort on Havelock Island feature thatched roofs over buildings constructed in a contemporary style. Set amidst swaying palms and manicured gardens, there are meandering walkways that take you through the entire property.
There are 27 spacious rooms divided into three categories at this Romantic Beach Resort on Havelock Island. All rooms and suites have wooden floors made of Andaman Padauk and Teak and feature antiques and selected works of art.
This Resort on Vijaynagar Beach has a simple contemporary architecture that doesn't hamper the beauty of the beach.
The resort has six single storied cottages and seven double storied cottages that house 32 guestrooms. The spacious guestrooms are loaded with all modern amenities while large glass walls allow you to capture the mesmerizing beauty of the sea for posterity. Each guestroom has a private balcony gives you unobstructed views of the vast sea
Travel Tidbit
Many islands in Andaman and Nicobar are still unexplored and out of the 572 islands, only 36 of them are inhabited. These islands are also home to an indigenous tribe known as 'Jarwa' who do not interact with outsiders. Even today, they remain as one of the most isolated tribal group in the world!
A trip to Andaman and Nicobar Islands is a memorable dream and a holiday that is definitely worth saving for.
---
About SelfRoadiez
We find PLACES that are UNCROWDED, has a story to EXPLORE, gets your nerves to RELAX, let's you CONNECT to your roots and simply lets you have a FABULOUS DRIVE HOLIDAY with your loved ones around.
Wish to Book a Self-Drive Car Rental, Offbeat Holiday Stay, Unique Tour Experiences or get a curated vacation plan for your next holiday travel ?  Visit the site or Call us to discuss!