Iran Tour - Persia Experience
This tour originates from Tehran.
Price start with

₹

129999

per person.
Package Description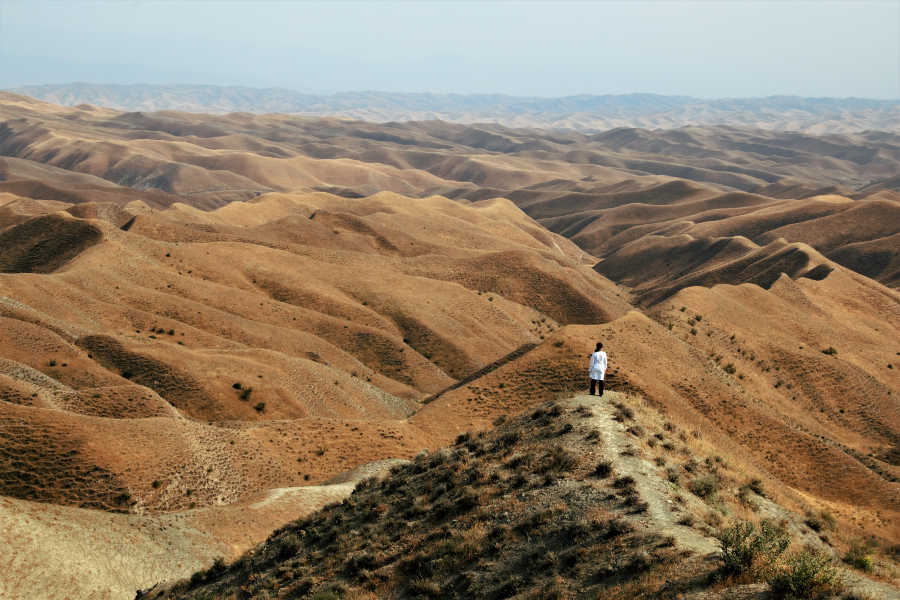 Home to one of the world's oldest civilizations, a rich culture and varied and beautiful landscape and a treasure house for some of the most beautiful architecture on the planet, Iran or Persia is a traveler's delight
Iran though one of the friendliest countries to travel in the world still lies off the beaten track for most travelers.
Iran provides a range of activities from hiking and skiing in the Alborz and Zagros mountains, to beach holidays by the Persian Gulf and the Caspian Sea.
Discover more of Iran (Persia) with our 8 Nights/9 Days

 

Package
This package covers Tehran (2N), Shiraz (2N), Yazd (2N), Isfahan (2N) 
---
Ideal season for the tour
March-May and Sep-Oct are the best time to go to Iran – you'll dodge the searing heat and bitter winter cold (with snow-blocked mountain roads). Prices do rise in these months, particularly April; June and Oct offer slightly better deals as long as you are prepared to dress for the heat/chill
---
Package Highlights
Handful of operators to provide offbeat tour packages to Iran from India

Hosts approved by the local tourism board

Private tours with local experience, food and ample leisure time

Competitive pricing

Quality checked stays and coordinated transfers

We do the research so that you don't have to spend hours online
Tour Duration
8 Nights/9 Days 
Available packages for Iran Tour - Persia Experience
This tour originates from Tehran.
Accommodation type with pricing from Rs.3000/- to Rs.6000/-.
Itinerary
Day 1: Arrival in Tehran
Welcome to Iran. Our tour guide will meet and greet you at the Imam Khomeini International Airport (IKA) Transfer to the hotel and rest.

In the afternoon, visit theNational Museum of Iran, where you can see astonishing historical objects from 5th millennium BC to the advent of Islam in Iran which shows a brief history of the land.

Overnight at Hotel in Tehran
Note:
The priority in sightseeing may be changed due to the time of your arrival, preference of your guide and also official and unofficial holidays of some museums.
Day 2: Tehran sightseeing -> Shiraz
Tehran, the capital is the most populous city in Iran and is home to many historical collections, including the royal complexes of Golestan, Sa'dabad, and Niavaran, where the two last dynasties of the former Imperial State of Iran were seated
A full day Sightseeing in Tehran including the lavish Golestan Palace, a fabulous walled complex centered on a landscaped garden with tranquil pools. 

Time permitting, walk around Tehran Bazaar, a few steps from the Golestan Palace. Continue along the Bazaar route.

Visit the National Jewelry Treasury housed within the Central Bank of the Islamic Republic of Iran.

At this museum, be dazzled by a majestic collection of crown jewels, many of them gathered from around world during the Safavid Dynasty that ruled from 1502 to 1736.

In the evening, transfer to the airport for the flight to Shiraz

Overnight stay in Shiraz
Day 3: Shiraz sightseeing
Shiraz is a city in south-central Iran, known for its literary history and many gardens
Full day city tour including Eram Garden called "Baghe Eram" in Persian famous for its long and beautiful cypresses. This building and the garden were built during the middle of thirteenth century by the Ilkhanate or a paramount chief of the Qashqai tribes of Pars.

After that, visit Karim Khan Citadel, a residential military palace built during the Zand Dynasty. 

Explore and shop in the bustling Vakil Bazaar, home to hundreds of stores, beautiful courtyards, and even an ancient caravanserai.

After that, visit Nasir-al-Mulk Mosque (Pink Mosque) a few steps from Vakil Bazaar.

In the evening, visit the tomb of Hafez, one of Persia's most outstanding poet.

Overnight stay in Shiraz.
Day 4: Drive to Yazd, Yazd sightseeing
Yazd a city in the heart of desert is nicknamed the "City of Wind Catchers" (Persian: Shahr-e Badgirha).
In the morning drive to Yazd. It is a good idea to stock up on locally bought and easily found dates and pistachio nuts for the journey.   

Stop on the way to visit Persepolis, the fabulous art of ancient Persia, and then Pasargadae, Tomb of Cyrus the great (559-530 BCE), founder of the Persian Empire.

Also visit Naghsh-e Rostam (Necropolis), where you can see four tombs and one building from the Achaemenid dynasty with a group of ancient Iranian rock reliefs cut into the cliff, from the Sassanid density.

Arrive at Yazd in the afternoon and transfer to the hotel.

Yazd is a most picturesque desert city and you can take a short walk around Amir Chaqmaq square (an ancient square), and walk through streets of Yazd.

Overnight stay in Yazd.
Day 5: Yazd sightseeing
After breakfast, visit the Fire temple 

the place of worship for Zoroastrians, also called Dar-e Mehr in Persian and Agiyari in Gujarati. It is one of the nine Atash Behrams, the highest grade fire in Iran where Zoroastrians have practiced their religion since 400 BC; the other eight Atash Behrams are in India.

Visit the Tower of Silence (Persian: Dakhma), a circular raised structure built by Zoroastrians for excarnation – that is, for dead bodies to be exposed to carrion birds.

Walk around the old area of the city and visit Yazd Jame mosque, and Fahadan district to feel the desert architecture culture.

Among the many other historic sites to be seen in Yazd are beautiful old homes and the Dowlat Abad Garden where there is an 18th-century hexagonal pavilion with a beautiful stained glass window and a graceful wind tower – the tallest in Iran. 

Overnight stay in Yazd.
Day 6: Yazd -> Meybod -> Isfahan
Leaving Yazd behind, the first stop this morning will be in Meybod, where the first impression is its striking monochromatic architecture of desert brick.

From here we will continue to the small town of Na'in, an ancient community with origins dating back to the 8th century.

At the local Ethnographic Museum, set in an erstwhile private residence of the Safavid era, you'll learn more about the region's cultural traditions.

Continue to Isfahan and transfer to the hotel.

Overnight stay in Isfahan.
Day 7: Isfahan sightseeing
Isfahan is a city in central Iran, known for its Persian architecture
A full day of sightseeing in Isfahan including the Masjed-e Jamé of Isfahan one of the oldest congregational mosques in the country, and a masterpiece of Iranian architecture, covering nearly 5 acres.

Next up is Chehel Sotun a graceful pavilion built by Shah Abbas II for entertainment and court receptions set in a landscaped and forested park in front of a tranquil reflecting pool.

In the afternoon, explore the Imam Square, a 17th-century site and one of the largest public spaces in the world.

Here in the square, visit the 17th-century Shah Mosque, revered as a masterpiece of Islamic architecture and easily recognized by its magnificent tile-work and soaring cupola and minarets.

In the Ali Qapu Palace, marvel at its beautiful music rooms and the balconies where Safavid kings would sit to enjoy the polo matches unfolding in the square below.

End your day exploring the Qeisarieh Bazaar that surrounds Imam Square. With hundreds of local vendors that specialize in traditional arts and crafts, it's a wonderful place to shop for pottery, enamel, jewelry and delicately inlaid board games.

Overnight stay in Isfahan.
Day 8: Isfahan -> Kashan -> Tehran
Kashan is the first of the large oases along the Qom-Kerman road which runs along the edge of the central deserts of Iran. Its charm is thus mainly due to the contrast between the parched immensities of the deserts and the greenery of the well-tended oasis.
Continue to Kashan to visit the Fin gardens, a relaxing and visually impressive Persian garden with water channels all passing through a central pavilion.

From here we will go to the bazaar area, then visit Aghabozorg mosque.

You'll also visit the historic Borujerdi House and Tabatabaei House here in Kashan.

Continue to Tehran.

Overnight stay in Tehran.
Day 9: Departure from Tehran
After breakfast – transfer from Hotel to IKA according to your' flight time.
Tour inclusions
8 nights of stay on B & B basis in hotels/ local house/ traditional guest house.

All transfers and transportation by 

Bus / Minibus/Private car depending on your group size.

1 domestic flight

The price includes double and twin rooms in Hotels. Single rooms cost extra.

9 breakfasts throughout the stay

2 bottles of water + fruits + snacks per day per person

Professional licensed English speaking guides and driver

Visa authorization code processing fee
Note:
Private or single rooms are not available in the traditional local house. Sleeping equipment is traditional comfortable Mattresses and Blankets. No Bed!
Half board and Full board meal plans are available on request at additional cost.
Tour exclusions
GST @ 5% on the package pricing

International return airfare to Tehran

Visa charges (assistance provided if required)

Meals other than mentioned in the itinerary

Alcoholic beverages with meals.

Expenses of personal nature

Entrance fees to monuments and attractions

Travel insurance

Tips to local guides and drivers
Terms & Conditions
The itinerary mentioned here is indicative and the final itinerary might vary as per the client preferences.
The rates mentioned (if any) is been based on an estimated price for the season and bookings will be made after discussions for the customization.
The actual rates might vary based on the availability on the exact travel date, actual flight charges and currency exchange rates on the date of booking.
Flights and visa charges are optional and can be booked by the client directly if required so. SelfRoadiez can provide the same if requested by the client
Cancellation policy
Cancellation charges will vary for specific destinations and seasons. For flight inclusive packages, the cancellation policy of the respective airline will take precedence. Below is the general guideline for cancellations:
From booking date till 31 days prior to departure - 20 % of Package Cost

16 to 30 Days prior to departure - 40% of Package Cost

Less than 24 hrs to 15 Days prior to departure - 100% of Package Cost.
Accomodation

01

Location

Tehran

Stay Details

Or Similar Type
We are sorry, there are no reviews yet for this tour.