If you're an adventure junkie who dives headlong into thrilling experiences, make a beeline for Dandeli, Karnataka, which is a haven for adventure lovers. Right from rappelling to river rafting in Dandeli, every adventure activity thrills excites and enthralls.
1) Dandeli River Rafting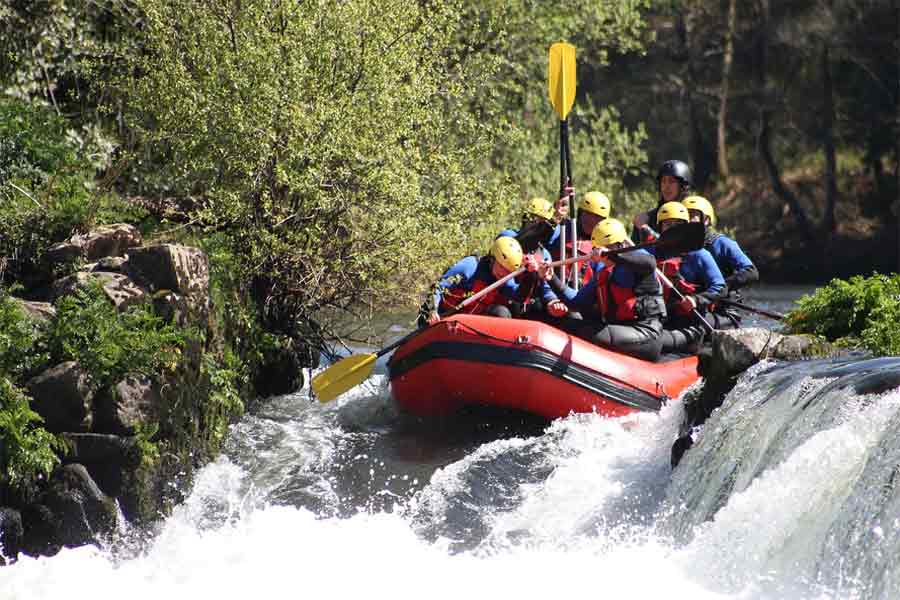 Get your adrenaline rushing as you tackle the Class 4 Rapids of the River Kali with rafting in Dandeli. Strap yourself in rubber boats and cover a 9.5km stretch in an unforgettable three-hour experience that will have you screaming your lungs out. Adventurers are driven in jeeps to the starting point, given instructions and safety tips, provided with helmets and life jackets and set out with trained rafting operators.
The Dandeli river rafting price is approximately anywhere between Rs. 1500-1700 per person. The best time to visit Dandeli, Karnataka for river rafting is between November and mid-June, but the months between October and March is when the Dandeli river rafting season is in full swing and the crowds are maximum.
Adventure canyoning on the river is another thrilling activity that adventurers can indulge in.
2) Birdwatching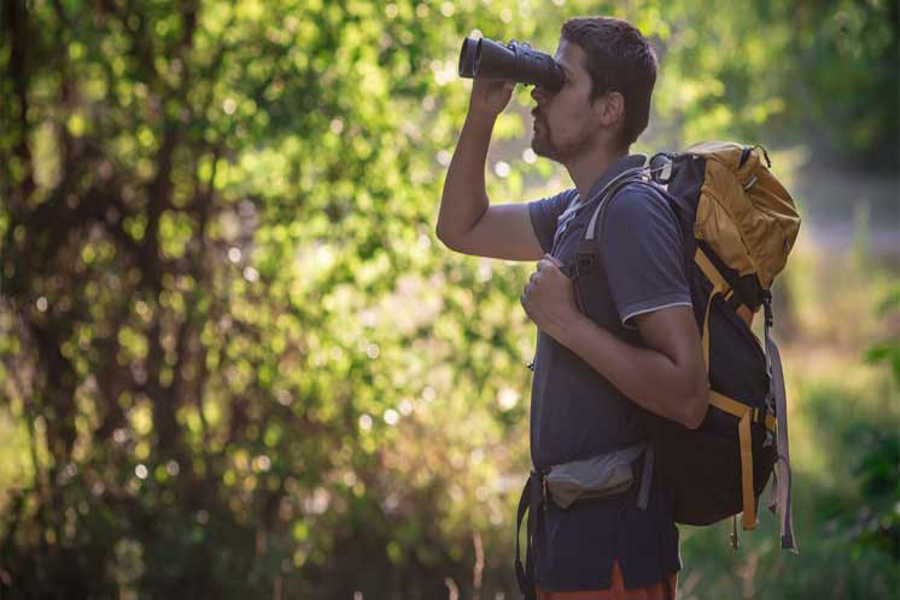 If you're an avid birder then Dandeli and the surrounding region, with its 300 species of birds, is the place for you. Pied hornbills are Dandeli's largest birds, and the Dandeli jungle is said to house four out of the world's nine species of hornbills. Other varieties include jungle babblers, crested serpent eagle, cuckoos, bulbuls, woodpeckers, pompadour green pigeons, thrushes, and magpie robins, among others. Venture out early in the morning and summon up oodles of patience to spot these different varieties of birds.
3) Rappelling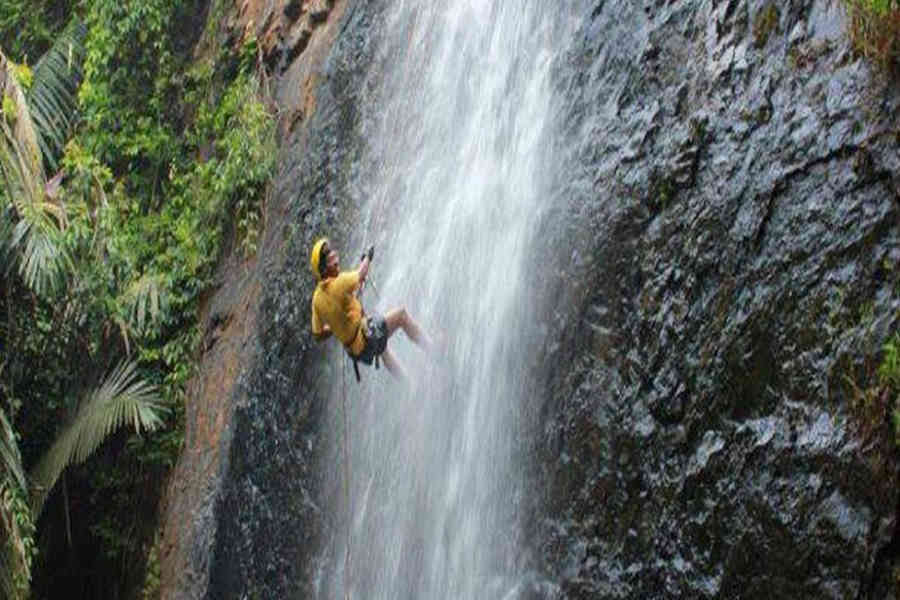 Those who fancy themselves as swashbucklers can indulge in rappelling – a thrilling sport which challenges your fear of heights. Adventurers get to climb the stark rocky and steep cliffs of the Sahyadri mountains and come careening down suspended by but one single piece of rope. Whether one is a skilled adventurer or an amateur, the experts at Dandeli adventure sports rappelling activity take care of everything.
4) Jungle Safari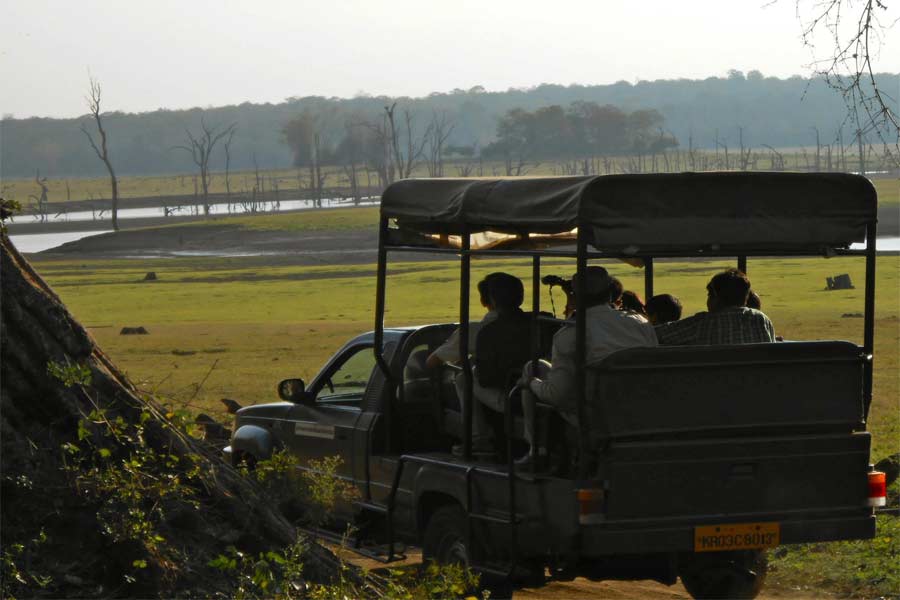 Traveling in open jeeps and experiencing the natural beauty, flora, and fauna of the lush Dandeli forest is something you can experience in a jungle safari. Usually arranged during the morning or evening, this activity requires the permission of the forest department and is great for visitors of all ages. It takes visitors 14-30 km deep into the heart of the Dandeli jungle where one can spot giant squirrels, varieties of snakes, rabbits, foxes, bison, deer and if they're lucky, even a bear or an elephant.
5) Adventure Trekking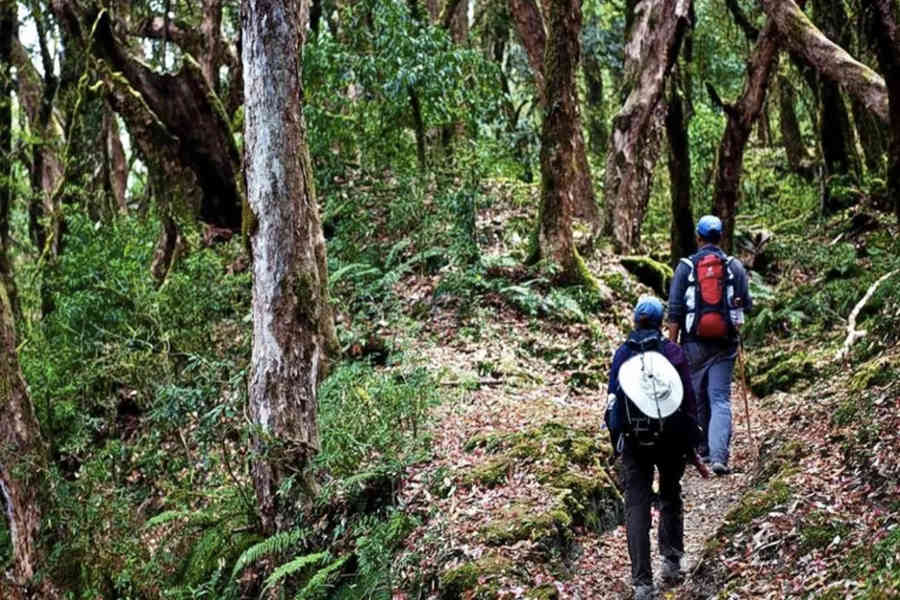 There's nothing like walking in the forest to actually experience and appreciate its natural beauty fully, which is what adventure treks are all about. The walk through the Dandeli Wildlife Sanctuary is along the majestic Kali River and explores some historic sites such as the Jungleshwar temple and the burial place of a British officer atop the mountain. It could be difficult to spot fauna due to the thick forestation, but if you're lucky, you might chance upon hornbills, bison and Malabar giant squirrels.
6) Coracle Ride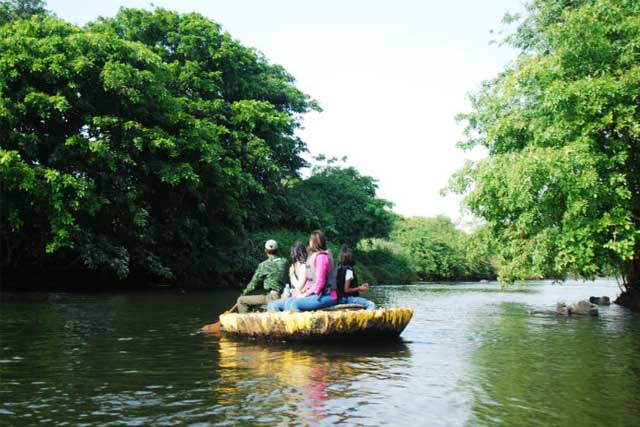 The rivers of Southern India and Ireland interestingly have something in common – they have a unique, traditional circular-shaped boat made out of tanned buffalo hide and bamboo called the Coracle! In Dandeli, Karnataka the coracle rides involve drifting down the Kali River, close to its shoreline, and experiencing its beauty and biodiversity. You might even spy a few crocs and birds or visit islands nearby.
7) Adventure Kayaking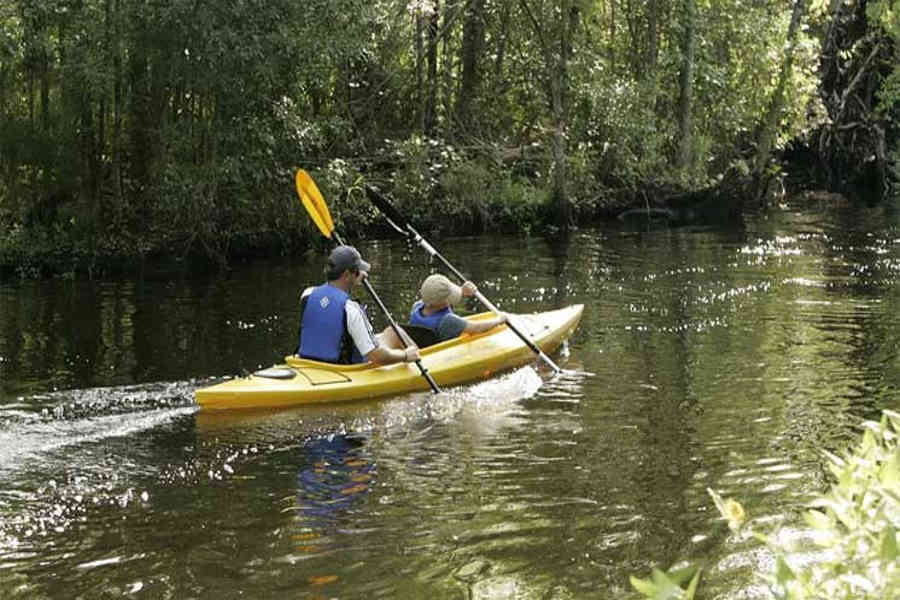 A leisurely yet enriching activity is kayaking, which allows you to paddle across the river in a kayak. The experienced guides not only teach you to sail through the River Kali to the nearby islands on your own but also teach you the basics of kayaking such as control, turning and paddling strokes.
8) Jungle Camping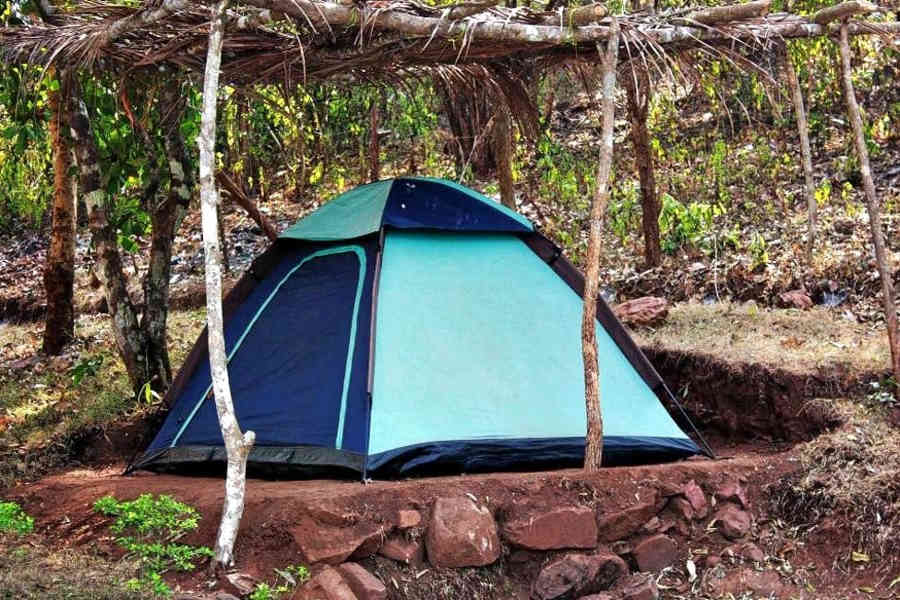 Go overnight camping and get a taste of nature in its primeval form with the Dandeli jungle camp. Go rustic with food habits with the campfire barbeque, sleep in tents with only the distant cries and hoots to give you company, and listen to the River Kali gush in full force in the pitch darkness of the atmosphere – and you'll never look at nature the same way again.
9) River Jacuzzi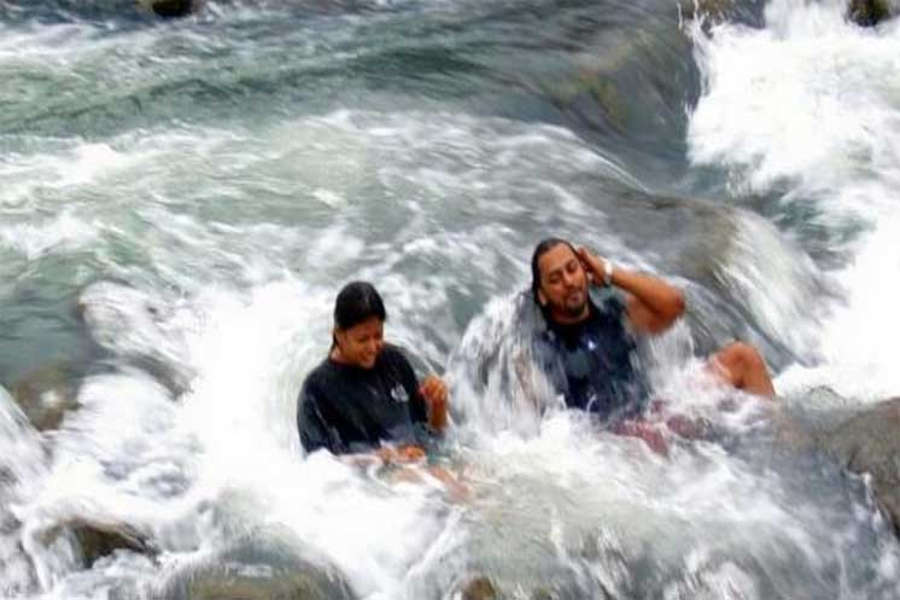 Have you ever sat in the middle of a rushing river for natural massage therapy? For that's what the natural river Jacuzzi promises. You're taken to a particular spot in coracles/boats and made to sit in comfortable spots in the river where the water hits you with a touch that is healing and therapeutic. Do not miss!
10) Zorbing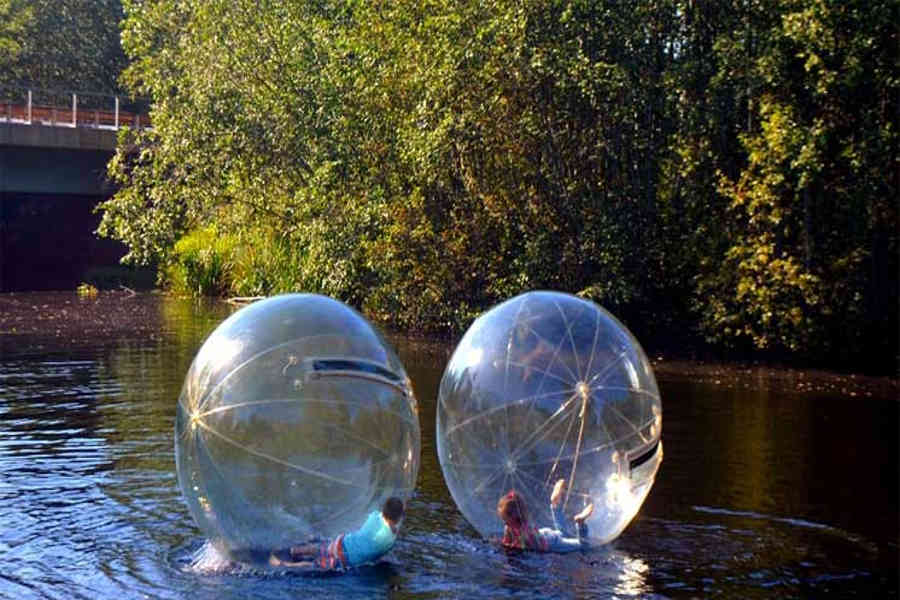 A new-age recreational activity with its origins in New Zealand, Dandeli's version of Zorbing is a fun-filled water activity that involves the rider rolling on a level surface of the water in an inflatable, transparent ball known as the 'Zorb'. It's a great activity for rejuvenation and relaxation.
11) Zip-lining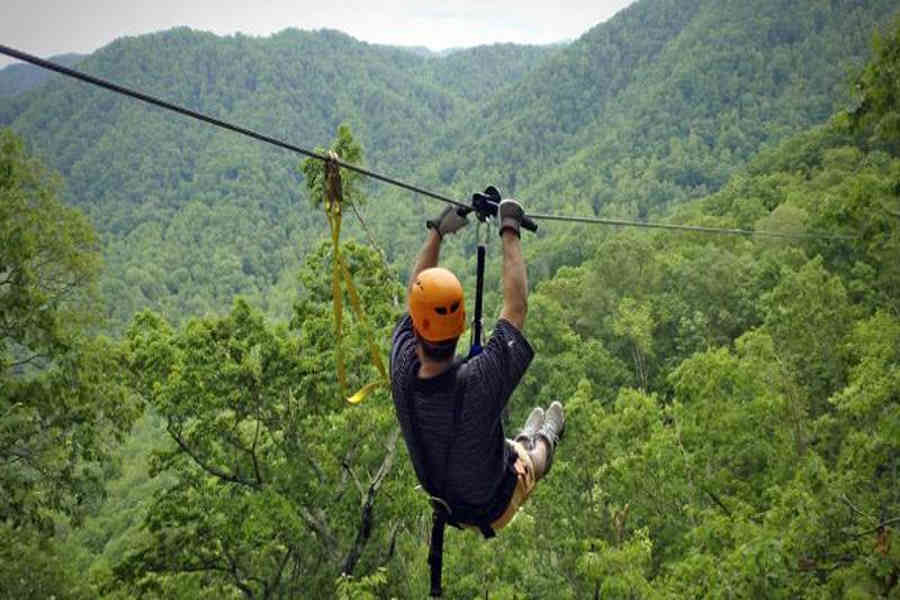 A popular activity at Dandeli, Karnataka is zip-lining. This involves a person suspended from a pulley and attached to an incline traveling from a top spot to a bottom point propelled by gravity. An entertaining and adventurous activity, zip-lining is a great way to get rid of your fear of heights!
12) River Crossing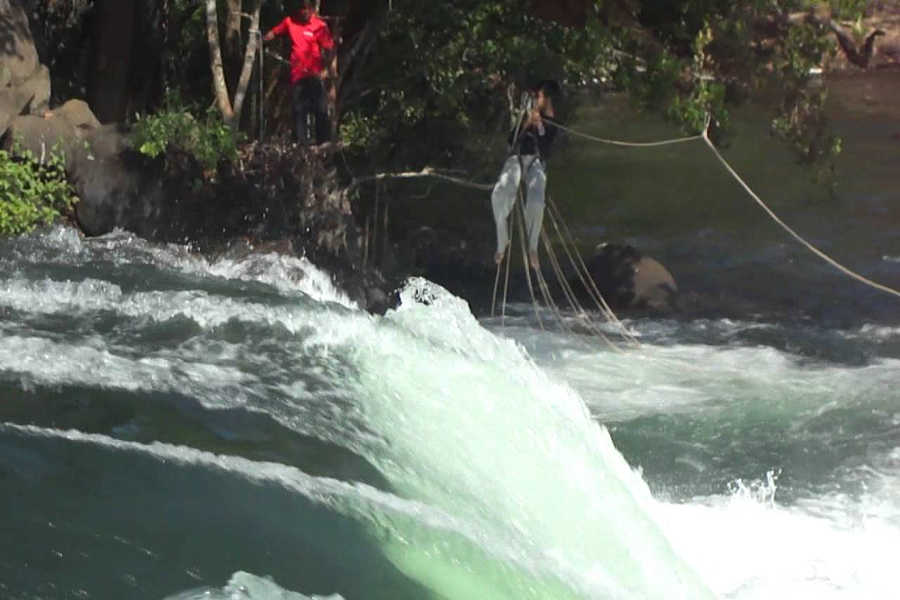 The river crossing is one of the oldest adventurous sports where one needs to cross a river using a safety harness attached to a rope that is tied to both sides of the river. With the water flowing in full force beneath you, crossing the river is an unforgettable, adrenaline-pumping experience.
13) Mountain Biking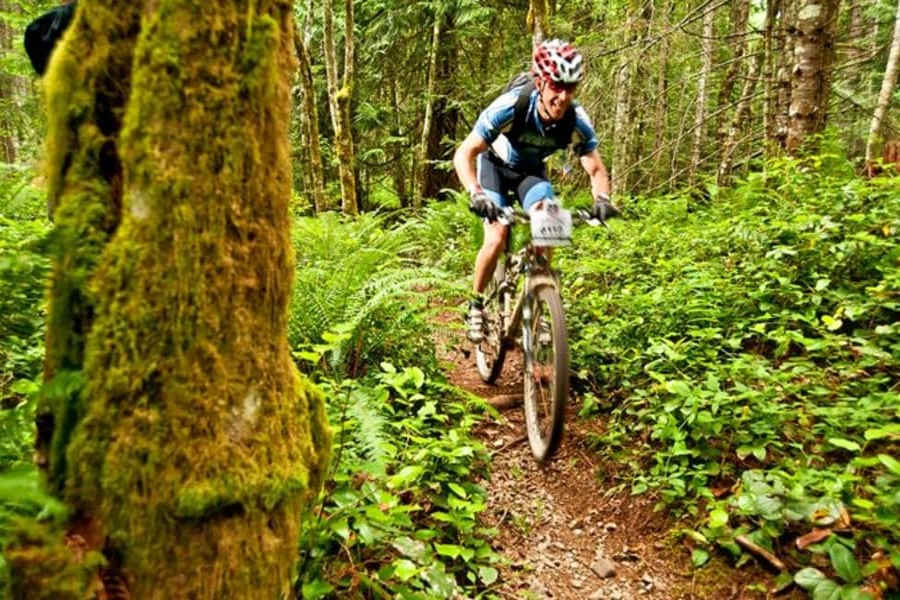 A newer experience for many, mountain biking involves riding bicycles off-the-road using specially modeled mountain bikes. Trained professionals and experts guide and support you while taking precaution and care all the time.
There are excellent resorts, jungle stays or homestays in Dandeli, Karnataka. Most of the stays arrange the adventure activities for their guests, upon requests. If you vacation on White Water Resort Dandeli, you'll get to stay in an eco-friendly jungle getaway right next to the Kali River. Dandeli, Karnataka is one place where one can slake their thirst for adventure activities. Are you game?
---
About SelfRoadiez
SelfRoadiez Travel Solutions Pvt Ltd through our online travel portal www.selfroadiez.com provides integrated self-drive holidays to offbeat destinations within India. We provide exclusive self-drive car rentals to travelers with a choice of multi-city car pick up points in India. We also offer drive holiday packages including accommodation, route planning, and experiential activities under custom travel plans. Thinking of a self-drive holiday? Call us to find out how we can help.