Unspoiled by human habitat, Gokarna is one of the very few tourist towns that have drastically changed its frontier from being a temple town to a beach lovers' paradise. 
History
Gokarna has an interesting history and a mysterious legend attached to it. Shrimad Bhagavad Purana mentions Gokarna as the place where Lord Shiva emerged from the ear of a cow and hence the name. The legend bit is quite juicy with Ravana trying to establish Atmalinga for his mother to worship, whereas Lord Maha Vishnu convinced of Ravana's evil intentions of becoming eternally powerful, seeks the help of Lord Ganesh. Lord Ganesh takes the form of a Brahmin boy and offers to hold the Atmalinga until Ravana completes his daily puja rituals. However, the Brahmin boy calls out to Ravana in the middle of his rituals and rests the Atmalinga at Gokarna (Mahabaleshwar) and vanishes. Ravana realizing that he has been taken for a ride tries to remove the Atmalinga but in vain. In raging anger, he removes few pieces and throws it in all directions resulting in the five Pancha Kshetras.
The drive down to Gokarna is an overwhelming experience as it is surrounded by beaches on three sides and the rocky mountains of Western Ghats on the other. Enjoy scenic beach views for a full 7 km stretch with rocky fronts, soft sands, and limitless waves as the laid-back temple town emerge into a surfers' paradise. Gokarna beaches are so unlike any other beaches that you come across in India, with rocky shores and tiny hillocks it is also a trekkers' delight. At Gokarna, you just don't stroll leisurely on the shores but indulge in actual trekking over hillocks as the best beaches nestle on the other side of the tiny hills.
Weather
Gokarna enjoys a temperate climate. The best time to visit the beach would be from October to February when the average weather would be around 32 degrees Celsius (90 degrees Fahrenheit). During the Summer months April and May the weather peaks up to 38 degrees Celsius (100 degrees Fahrenheit).
Transport
Located near many major cities, Gokarna can be easily accessed by road from Goa, Bengaluru, Hubli, and Mangalore. Regular bus services to Gokarna have been operation given its pilgrimage status.
Airports Closeby 
The nearest airport to Gokarna would be Dabolim in Goa which is about 140 Km from the city. The airport is well-linked with flights from domestic and international cities such as UK and Germany.
Train Stations
Though Gokarna has a railway station that is connected to Margoa, not all trains stop here. Therefore the nearest railway station would be in Ankola which is about 20 Km from Gokarna.
Road Trips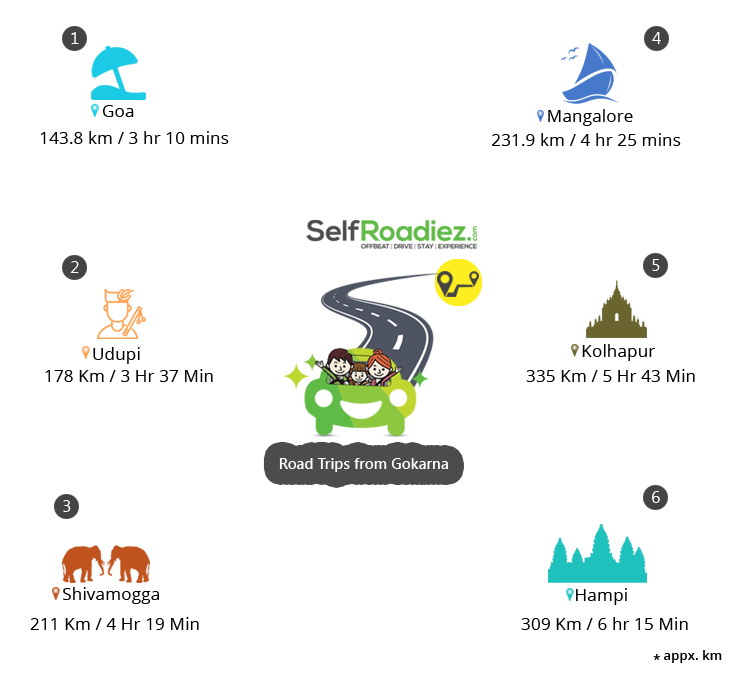 1) Gokarna > Goa
Appx Driving Dist: 143.8 Km / 3 Hours 10 Minutes
Get ready to soak in the sun-kissed beaches of Goa, a cool drive away from Gokarna. Though Goa is India's smallest state with the least population, Goa is the most popular tourist destination for beach lovers. Formerly a Portuguese province, the original Margoa city still has Portuguese architecture resounding on its roads.
2) Gokarna > Udupi
Appx Driving Dist: 178 Km / 3 Hours 37 Minutes
A temple town with the Arabian sea in the west, Udupi borders the western ghats and is covered by reserve forests and beach. Udupi is a pilgrimage site for Hindus who come here to visit the shrine of Lord Krishna. Apart from the temple, there are many other places of interest such as – Kapu Beach, St. Mary's Island, Kudlu Falls, Mattu Beach etc.
3) Gokarna > Shivamogga
Appx Driving Dist: 211 Km / 4 
Hours 
19 Minutes
Known as the 'Gateway of Malnad' Shivamogga lies on the banks of Tunga river and is the gateway to the hill region of the western ghats. A historic city Shivamogga was ruled by Kadambas, Chalukyas, Rashtrakutas, Hoysalas and the Vijayanagara rulers. There are many places of interest to see in this town, namely – Jog falls, Kodachadri, Agumbe, Mandagadde Bird Sanctuary, Tyavarekoppa and Gajanur Dam.
4) Gokarna > Mangalore
Appx Driving Dist: 231.9 Km / 4 Hours 25 Minutes
A city camouflaging Mother Nature in its many folds, Mangalore is one of the cleanest cities in India. Considered the best place for business ventures, Mangalore landscape is blessed with fresh water streams gurgling down the lush green hills, coconut palms lining the green covers and hard red-clay-tiled-roof buildings.
5) Gokarna > Kolhapur(Maharashtra)
Appx Driving Dist: 335 Km / 5 Hours 43 Minutes
Located on the banks of Panchaganga River, in Maharashtra, Kolhapur is a pilgrimage site thanks to the ancient Mahalakshmi temple. A historic city, ruled by the royal clan of Bhosale Chatrapathi of the Maratha empire, Kolhapur has many remnants of history that makes it a very interesting place to visit – Mahalakshmi Temple, Panhala Fort, Jyotiba Temple, Rankala Lake etc.
6) Gokarna > Hampi, Karnataka
Appx Driving Dist: 309 Km / 6 Hours 15 Minutes
A captivating place and a UNESCO world heritage site, Hampi is an ancient village situated in the south of Karnataka. Ruled by the Vijayanagara Kings, the once magnificent town is now in ruins of rock and temple beckoning history lovers from all over the world to witness the art and splendor of our ancient kings. A must-see if you love history and art.
Sight Seeing Places
The prime tourist spot is the Mahabaleshwar Temple, known as the Dakshin Kasi, where Lord Shiva resides in the form of Pranalinga, a part of Atmalinga. Its Dravidian style of architecture is magnificent and is believed to be 1500 years old. The deity of the temple is established on a 'Square Saligrama Peetha' – pedestal with a small hole in the center from where devotees can glimpse at the top of the Atmalinga. A must visit place is the Gogarbha – Womb of Cow, a holy cave believed to be the final resting place of sadhus who visit it till date. With a spiritual overload, let us visit the beaches next for which Gokarna is now fast gaining popularity. The main Gokarna beach is often crowded with locals and festivities.
Load on your beach gear and head for the tiny hillocks that hideaway the sandy pristine beaches on the other side. Head to the Kudle Beach, is a welcome change away from the busy Gokarna beach, resting amidst green, rocky hillocks, it's a sheer pleasure to soak your feet in the waves as you sip on something refreshing from the shacks. Resume trekking the hillock and it reveals you the most stunning 'OM' beach that literally resembles the Hindu symbol OM. Next on the pit stop is the Half-Moon beach, which is a lagoon and end your trip at Paradise beach, a true paradise as it is the last and the farthest from the town, totally clean and unspoiled.
Accommodation
With sandy beaches and unending waves, Gokarna has the most humble shacks to the most luxurious beach resorts for visitors to enjoy and soak in the spirit of pristine beaches. The accommodation facilities are customized to suit the needs and preferences of guests.
Here is our suggestion
Nestled between the Western Ghats and the Arabian Sea, Om Beach Resort provides you with an abundance of azure waters, sandy shores, and verdant vegetation to spend your days gazing at.  Kudle Beach, Half Moon Beach, and Paradise Beach are some popular seashores that you can explore at leisure during your stay at the resort.
The quaint Konkan style cottages which provide accommodation for visitors
Travel Tidbits
Gokarna can also be termed as surfers' paradise. Apart from strolling on the shore or wading in the waves, it has a plethora of water-sports for adventure seekers. OM beach is the perfect spot for adventure freaks as they can indulge from parasailing to kayaking to snorkeling to the crazy banana boat rides. These fun activities are available in plenty during peak tourist season, making it the most sought after fun beach destination. Do time your visit during the cooler months October – February and if you wish to witness the festivities extend the stay to March.
Adventure lover or not, you will fall in love with the concept of beach holidays, once you visit Gokarna!
---
About SelfRoadiez
We find PLACES that are UNCROWDED, has a story to EXPLORE, gets your nerves to RELAX, let's you CONNECT to your roots and simply lets you have a FABULOUS DRIVE HOLIDAY with your loved ones around.
Wish to Book a Self-Drive Car Rental, Offbeat Holiday Stay, Unique Tour Experiences or get a curated vacation plan for your next holiday travel?  Visit the site or Call us to discuss!