An abandoned town where time stands still and a myth that has endured for eons, Dhanushkodi is an interesting place to visit. Dhanushkodi is located at the tip of the Pamban Island and is separated from the mainland by Palk Strait. It shares the land border with Sri Lanka and is the smallest border in the world at 45 meters (148 feet) in length on the shoal.
History
There is a lot of epic history at Dhanushkodi. Rama built a bridge from Rameshwaram to Sri Lanka to march his army across the sea and rescue his wife. The myth is as real as it gets because there really is an underwater bridge (chain of limestone shoals) between Pamban Island and Rameshwaram Island. Geologists today concur that the bridge was once the land connection between India and Sri Lanka.
Myth, legend or true history, Rama's bridge (Rama Sethu) is a point of discussion for scholars, historians and true devotees of Rama but the physical evidence of this bridge is an indisputable fact.
But that's not the only history that Dhanushkodi is famous for. On December 23, 1964, Rameshwaram was struck by a cyclone, which has since been regarded as the most powerful storm to strike Sri Lanka. The catastrophic damage that this storm caused is only second to the devastating Tsunami that tore through the coast of Tamil Nadu in 2004.
Today, Dhanushkodi is an abandoned city and an excellent offbeat destination for history lovers.
Weather
The best time to visit the hamlet of Dhanushkodi would be during the months of October to February. Though the island has a tropical climate the summer months are relatively less when compared to the rest of the mainland. July to September are monsoon months here and the area is prone to cyclones and storms.
Transport
Airports Closeby
The nearest airport to Rameshwaram is at Madurai which is 163 Km.
Train Stations 
Rameshwaram is accessible through road and railway lines from all major stations in India. Dhanushkodi doesn't have a train station and the nearest one is at Rameshwaram which is 21 km from Dhanushkodi.
Road Trips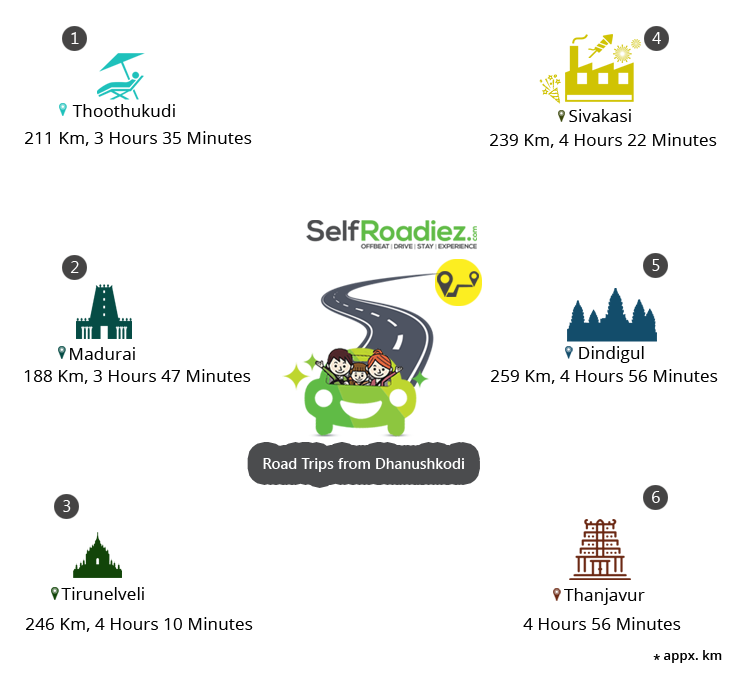 1) Dhanushkodi > Tuticorin
Appx Driving Dist: 211 km / 3 hours 35 minutes
Also known as Thoothukudi is a port town with many interesting spots to visit. Our Lady of Snows Basilica is one of the most popular shrines of worship whose architecture was inspired by the Basilica Di Santa Maria Maggiore in Rome. Tuticorin Port is yet another interesting place to visit especially for those who have a fascination for sea and ships. Thiruchendur Murugan Temple is a popular shrine to visit among the Hindu pilgrims. Ottapidaram is a small region that is located near Thoothukudi, which is certainly worth a visit if you are a Tamil history lover. V.O Chithambaram's (also known as Kappal Otiya Chithambaram) house at Ottapidaram is today a historical monument where one can see many memorable moments of our freedom struggle.
2) Dhanushkodi > Madurai
Appx Driving Dist: 188 km / 3 hours 47 minutes
Located on the banks of River Vaigai, Madurai is an ancient town closely associated with Tamil language and culture. Mentioned by Greek historians, as early as 3rd Century BC, there is a lot of history in Madurai. One of the main attractions of this city is the Madurai Meenakshi Temple. Supposedly built by the survivors of Kumari Kandam, the temple is dedicated to Meenakshi (an avatar of Parvathi) who was born as a royal Pandya Princess whose hand Lord Shiva claimed in marriage. Thirumalai Nayak Palace is yet another notable places to visit while here – Alagarkoil Temple, Gandhi Museum, Aayiram Kaal Mandapam and Vaigai Dam. While at Madurai, do sample their special Jigarthanda, it is certainly worth the trip.
3) Dhanushkodi > Tirunelveli
Appx Driving Dist: 246 km / 4 hours 10 minutes
Located on the banks of Thambarabarani River, Tirunelveli is an ancient city that was once ruled by the Pandyas, Cholas and Madurai Nayaks. The famous freedom struggle war between the legendary Veerapandya Kattabomman and the British was fought at the outskirts of this town. There are many places worth a visit in this historic town and they are – Kanthimathi- Nellaiappar Temple, Agasthiyar Falls, Manimuthur Waterfalls, Kalakadu Sanctuary etc. While at Tirunelveli, don't forget the sample their famous Halwa. It is certainly worth the trip!
4) Dhanushkodi > Sivakasi
Appx Driving Dist: 239 km / 4 hours 22 minutes
Famous for its firecrackers factory, Sivakasi is a historical town established in the 15th century by Pandya King Harikesari Parakkirama Pandian who brought a Siva Lingam from the holy city of Kasi to build a Shiva Temple. Hence the name Siva Kasi! The many places of interest that one can visit in Sivakasi are – Sri Nindra Narayana Perumal Temple, Pilavakkal Dam, Swami Kasi Vishwanatha Thiru Kovil, Sri Badrakalliamman Temple etc.
5) Dhanushkodi > Dindigul
Appx Driving Dist: 259 km / 4 hours 56 minutes
An ancient settlement ruled by Pandyas, Medieval Cholas, Pallavas, Nayaks and then the British, Dindigul has many historical monuments and places of interest like the Dindugal Fort, Thadikombu Perumal Temple, Kamarajar Lake, Sri Kottai Mariamman Kovil etc.
6) Dhanushkodi > Thanjavur
Appx Driving Dist: 259 km / 4 hours / 56 minutes
Thanjavur, the capital city of Medieval Cholas is a must-visit place to visit if you are in Tamil Nadu. The glorious Brihadeshwarar Temple is the iconic monument of the Cholas might and power. An architectural marvel, the temple was built by the might Chola Emperor Raja Raja Cholan in the 11 Century AD. The city teems with many historical landmarks and heritage spots such as – Gangaikonda Cholapuram, Serfoji Saraswati Mahal Library, Thanjavur Royal Palace & Gallery, Sivaganga Gardens etc.
Sight Seeing Places
If you are looking for a serene place to contemplate and mull over the vagaries life, then you need to take a trip to Dhanushkodi. The unique geographical structure of this place, the legendary bridge, the empty ghost town and the amazing shallow beach are more than enough to take your breath away.
Irrespective of whether you are a history enthusiast or a Ram devotee, the Adam's Bridge (Ram Sethu) is a fascinating place that is worth a visit. Those who have a scientific bent of mind would describe this place to be a natural bridge that connects with Sri Lanka. This natural bridge is supposedly formed through a chain of coral reefs and sandbanks. Though staunch devotees would disagree and argue that it is a man-made (or Vanar-made) structure. Carbon dating has revealed that the bridge was around 125,000 years old to 3500 years old (which roughly matches the age of Ramayana epic).
Scientific study shows the bridge is made of rocks, sandbanks, long stretches of coral reefs and islands. The length of the Ram Sethu Bridge is around 48 Km or 30 miles. At some places, the sea is as shallow as three feet deep and while in other places it 30 feet deep.
Myth apart, at the Adam's Bridge one, gets to see the Bay of Bengal on one side and the Indian Ocean on the other and one need not be a history lover to see the beauty of this confluence as it fills your senses with peace and serenity. The ghost town buildings, church, abandoned railway station adds to the haunting experience of the place.
Pamban Island is yet another interesting place to visit. Located between peninsular India and Sri Lanka. A fishing village and a harbor for the pilgrims who visit Rameshwaram, the Island is 11 km from Rameshwaram. The main attraction of this island is the Ekantharamar Temple, which is worth a visit. The Pamban bridge is also a sight worth seeing as it is an engineering marvel that can't be seen anywhere in India.
The nearest pilgrim town of Rameshwaram is the most popular and holiest place to visit for Hindus. The magnificent temple of Lord Rama is one of the twelve Jyotirlinga Temples in India.
Accommodation
Accommodation in Dhanushkodi is not available since it is an abandoned city, however, one can stay at Rameshwaram and take a day trip to the town.
Rameshwaram is around 20 Km away from Dhanushkodi and since it is a popular pilgrimage town, accommodation to suit all kinds of the budget is available here. From budget hotels to three-star hotels, homestays, and guesthouses one can find accommodation at varying prices and comfort.
Travel Tidbits
The name 'Dhanushkodi' literally means 'The end of the bow'. After rescuing Sita from Sri Lanka, Rama broke the bridge with his bow upon Vibhishana's request so as to safeguard his Kingdom from other enemies. Rama acceded to his request and broke the bridge at Dhanushkodi with the end of his bow.
Untouched and frozen in time, this isolated town offers a forgotten glimpse into the past. If you love to visit offbeat places and delve into their history, then Dhanushkodi right up your alley.
---
About SelfRoadiez
We find PLACES that are UNCROWDED, has a story to EXPLORE, gets your nerves to RELAX, let's you CONNECT to your roots and simply lets you have a FABULOUS DRIVE HOLIDAY with your loved ones around.
Wish to Book a Self-Drive Car Rental, Offbeat Holiday Stay, Unique Tour Experiences or get a curated vacation plan for your next holiday travel?  Visit the site or Call us to discuss!